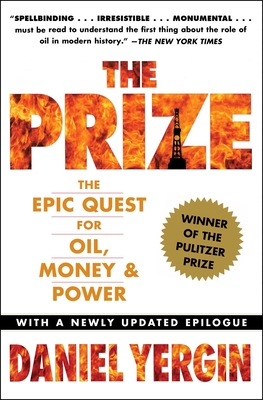 The Prize
The Epic Quest for Oil, Money & Power
Paperback

* Individual store prices may vary.
Other Editions of This Title:
Digital Audiobook (4/30/1991)
Paperback (1/1/1993)
Paperback (1/19/2009)
Description
Deemed "the best history of oil ever written" by Business Week and with more than 300,000 copies in print, Daniel Yergin's Pulitzer Prize–winning account of the global pursuit of oil, money, and power has been extensively updated to address the current energy crisis.
Praise For The Prize: The Epic Quest for Oil, Money & Power…
"Spellbinding...irresistible...monumental...must be read to understand the first thing about the role of oil in modern history." -- The New York Times

"A masterly narrative...The Prize portrays the interweaving of national and corporate interests, the conflicts and stratagems, the miscalculations, the follies, and the ironies." -- James Schlesinger, former U.S. Secretary of Defense and U.S. Secretary of Energy

"Splendid and epic history of oil.... The story is brilliantly told...with its remarkable cast of characters." -- The Wall Street Journal

"Impassioned and riveting...only in the great epics of Homer will readers regularly run into a comparable string of larger-than-life swashbucklers and statesmen, heroes and villains." -- San Francisco Examiner
Free Press, 9781439110126, 928pp.
Publication Date: December 23, 2008
About the Author
Daniel Yergin, chairman of Cambridge Energy Research Associates and the Global Energy Expert for the CNBC business news network, is a highly respected authority on energy, international politics, and economics. Dr. Yergin received the Pulitzer Prize for the number one bestseller The Prize: The Epic Quest for Oil, Money & Power, which was also made into an eight-hour PBS/BBC series seen by 20 million people in the United States. The book has been translated into 12 languages. It also received the Eccles Prize for best book on an economic subject for a general audience.

Of Dr. Yergin's subsequent book, Commanding Heights: The Battle for the World Economy, the Wall Street Journal said: "No one could ask for a better account of the world's political and economic destiny since World War II." This book has been translated into 13 languages and Dr. Yergin led the team that turned it into a six-hour PBS/BBC documentary — the major PBS television series on globalization. The series received three Emmy nominations, a CINE Golden Eagle Award and the New York Festival's Gold World Medal for best documentary. Dr. Yergin's other books include Shattered Peace, an award-winning history of the origins of the Cold War, Russia 2010 and What It Means for the World (with Thane Gustafson), and Energy Future: The Report of the Energy Project at the Harvard Business School, which he edited with Robert Stobaugh.