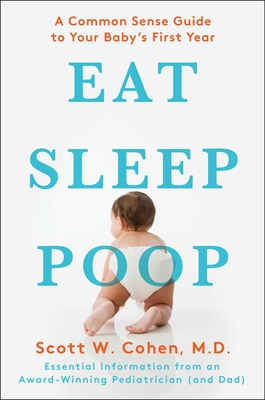 Eat, Sleep, Poop
A Common Sense Guide to Your Baby's First Year
Paperback

* Individual store prices may vary.
Description
Written during award-winning pediatrician Dr. Scott W. Cohen's first year as a father, Eat, Sleep, Poop is the only book to combine two invaluable "on the job" perspectives—the doctor's and the new parent's.

The result is a refreshingly engaging and informative guide that includes all you need to know at each age and stage of your child's first year. Drawing on the latest medical recommendations and his experiences at home and in the office, Dr. Cohen covers everything from preparing for your baby's arrival to introducing her to a new sibling, to those three basic functions that will come to dominate a new parent's life. Eat, Sleep, Poop addresses questions, strategies, myths, and all aspects of a child's development. In each instance, Dr. Cohen provides a thorough overview and a simple answer or explanation: a "common sense bottom line," yet he doesn't dictate. The emphasis is on doing what is medically sound and what works best for you and your baby. He also includes fact sheets, easy-to-follow diagnosis and treatment guides, and funny daddy vs. doctor sidebars that reveal the learning curve during his first year as a dad.

Lively, practical, and reassuring, Eat, Sleep, Poop provides the knowledge you need to parent with confidence, to relax and enjoy baby's first year, and to raise your child with the best tool a parent can have: informed common sense.
Praise For Eat, Sleep, Poop: A Common Sense Guide to Your Baby's First Year…
"Eat, Sleep, Poop should be every new parent's bedside staple. I would have loved to have this book 3 years ago when my son was born, but I still find it very helpful now! Dr. Cohen has succeeded in bringing readers a comprehensive book of must-have baby information, tips, recommendations, and heartwarming personal stories to help parents and their babies flourish through the first year together. This is the book I will be buying for everyone I know who is about to have a baby."
--Kim Barnouin, coauthor of The New York Times bestseller Skinny Bitch

"Dr. Scott Cohen has managed to condense everything parents need to know for their baby's first year into a fun and readable guide. Today's parents have more questions than ever and Dr. Cohen answers them all in this handy, readable book. I will be recommending this one to parents for years to come." -- Dr. Jenn Berman, author of SuperBaby: 12 Ways to Give Your Child a Head Start in the First 3 Years and The A to Z Guide to Raising Happy Confident Kids
Scribner, 9781439117064, 304pp.
Publication Date: March 30, 2010
About the Author
Scott W. Cohen, MD, FAAP, is the cofounder of Beverly Hills Pediatrics and an attending physician and active member of the teaching staff of Cedars Sinai Medical Center, where he was awarded Pediatrician of the Year in 2006 and the Physician Recognition Award in Pediatrics in 2005 and 2008. He completed his pediatric training at the Childrens Hospital Los Angeles, where he was the recipient of the Victor E. Stork Award for continued excellence and future promise in the care of children. He was selected as one of the Best Doctors in America 2007-present. Dr. Cohen has developed a program called Common Sense Parenting, and educates patients and families on how to raise healthy children-stress free. He lives in Los Angeles with his wife and two daughters.