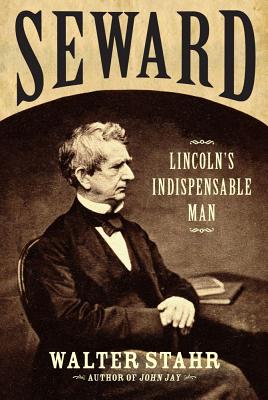 Seward
Lincoln's Indispensable Man
Hardcover

* Individual store prices may vary.
Other Editions of This Title:
Paperback (9/17/2013)
Description
From one of our most acclaimed new biographers—the first full life of the leader of Lincoln's "team of rivals" to appear in more than forty years.

William Henry Seward was one of the most important Americans of the nineteenth century. Progressive governor of New York and outspoken US senator, he was the odds-on favorite to win the 1860 Republican nomination for president. As secretary of state and Lincoln's closest adviser during the Civil War, Seward not only managed foreign affairs but had a substantial role in military, political, and personnel matters.

Some of Lincoln's critics even saw Seward, erroneously, as the power behind the throne; this is why John Wilkes Booth and his colleagues attempted to kill Seward as well as Lincoln. Seward survived the assassin's attack, continued as secretary of state, and emerged as a staunch supporter of President Andrew Johnson, Lincoln's controversial successor. Through his purchase of Alaska ("Seward's Folly"), and his groundwork for the purchase of the Canal Zone and other territory, Seward set America on course to become a world empire.

Seward was not only important, he was fascinating. Most nights this well-known raconteur with unruly hair and untidy clothes would gather diplomats, soldiers, politicians, or actors around his table to enjoy a cigar, a drink, and a good story. Drawing on hundreds of sources not available to or neglected by previous biographers, Walter Stahr's bestselling biography sheds new light on this complex and central figure, as well as on pivotal events of the Civil War and its aftermath.
Praise For Seward: Lincoln's Indispensable Man…
"[A] masterly new biography . . . [of] one of the most influential and polarizing American politicians of the nineteenth century."
— The New Yorker

"This magnificent biography finally provides what William Henry Seward so justly deserves—a full, terrific and complex portrait of his endlessly fascinating life."
— Doris Kearns Goodwin, author of Team of Rivals

"Walter Stahr's new biography offers an overdue reminder of the much broader scope of [Seward's] work."
— The Economist

"Stahr gives Seward his due in this intelligent and illuminating biography of one of the most important political figures of the 19th century. . . . He wasn't just Lincoln's indispensable man; throughout his career Seward was an indispensable man to the nation as well."
— Huffington Post

"This formidable figure has finally gained the biographer he's long deserved…a first-rate biography."
— Publishers Weekly, starred review

"This highly readable biography, based on thorough research in original sources, effectively shows that Seward deserves more fame as a patriot-statesman than he has traditionally enjoyed."
— The Wall Street Journal

"Politician, diplomat, raconteur, a figure of controversy and power, Seward has finally found a biographer equal to his importance."
— James McPherson, author of Battle Cry of Freedom: The Civil War Era

"In this fine volume, Walter Stahr has rendered a signal service by resurrecting the life of the often neglected William Henry Seward. His sweeping portrait of the long-standing Secretary of State is always lucid, engaging, scrupulously fair-minded, and deeply researched. This biography stands as a valuable addition to the rich literature of American politics in the mid-nineteenth century."
— Ron Chernow, author of Washington: A Life
Simon & Schuster, 9781439121160, 720pp.
Publication Date: September 18, 2012
About the Author
Walter Stahr is the author of Stanton: Lincoln's War Secretary; Seward: Lincoln's Indispensable Man, a biography of one of the most important Americans of the nineteenth century; and John Jay: Founding Father, a biography of America's first Supreme Court Chief Justice. He lives in Newport Beach, California.
or
Not Currently Available for Direct Purchase