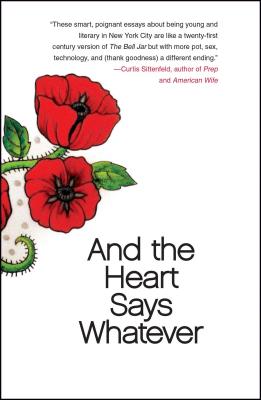 And the Heart Says Whatever
Paperback

* Individual store prices may vary.
Description
Essays by former editor of Gawker.com—and the new female voice of her generation. In And the Heart Says Whatever, Emily Gould tells the truth about becoming an adult in New York City in the first decade of the twenty-first century, alongside bartenders, bounty hunters, bloggers, bohemians, socialites, and bankers. These are essays about failing at pet parenthood, suspending lust during the long moment in which a dude selects the perfect soundtrack from his iTunes library, and leaving one life behind to begin a new one (but still taking the G train back to visit the old one sometimes).

For everyone who has ever had a job she wishes she didn't, felt inchoate ambition sour into resentment, ended a relationship, regretted a decision, or told a secret to exactly the wrong person, these stories will be achingly familiar. At once a road map of what not to do and a document of what's possible, this book heralds the arrival of a writer who decodes the new challenges of our post-private lives, and the age-old intricacies of the human heart.
Praise For And the Heart Says Whatever…
''This is not a 'nice' book, but it comes by its anger and melancholy honestly, and it makes sense of much that is puzzling about our cultural moment.''
-- Jonathan Franzen

"In this limpid, poetic elegy to the New York of her twenties, Emily Gould proves a sharp and feeling observer of her generation. Honest, gorgeously rendered, and occasionally brutal, And the Heart Says Whatever is a testament to the pleasures and pains of heightened self- awareness."
-Amy Sohn, author of Prospect Park West

"And the Heart Says Whatever confirms what fans of Emily Gould's previous writing already knew--that she's massively talented, just as good at devastating us with an emotional truth as she is at amusing us with a clever joke. These smart, poignant essays about being young and literary in New York City are like a twenty-first century version of The Bell Jar but with more pot, sex, technology, and (thank goodness) a different ending."
--Curtis Sittenfeld, author of Prep and American Wife

"...Gould turns a sharp eye on her own life...The perceptiveness...that...made her so controversial [carries] the book." —Booklist

"Gould's brand of confessional literature isn't new, but [her] unsentimental, unapologetically female tone is powerfully of-the-moment- [she speaks], in our often phoney and cheesy culture, to the truths of women's lives...[Gould makes] good writing look easy."
-- Curtis Sittenfeld, New York Magazine

We think [Amy Sohn's warm praise of the book] is perfect…Gould, the host of compulsively watchable web TV series Cooking the Books and a blogger of deserved renown, finds her way through the wilds of New York as [an] astute absorber of all that passes before her." —ThirtyDaysNY.com

"[A] collection of essays about what it's like to live the literary life in New York (even better, Brooklyn)...This girl is going to hold on to the bits she cares about, no matter how much glamour and trauma is thrown her way. The great path [to success in publishing] looms like the yellow brick road: surreal, nostalgic." —The Los Angeles Times

"[Flouts] traditions of many women's memoirs...the antithesis of personal growth narraives like Eat, Pray, Love...Gould's account of her early twenties will ring true to many young people who have longed to prove their worth without being totally sure what that worth is....for teenagers and early twentysomethings seeking what Gould calls "permission" to pursue their dreams, a narrative arc may matter less than the simple tesitmoney of someone who's been there, offered without guilt and without apology." —Jezebel

"gut-wrenching and smart and naked and beautifully written. You can read it as a document of a particular techno-era in New York (and of confessional online culture in general), and as a chroncile of the faullout from a very specific moment in Gawker's reign. But the stories Gould tells here are also very personal, and very sad...she captures better than almost anyone the feeling of what it's like to be young(ish), both ambitious and aimless, more watchful and introspective than is good for her, at this particular moment in our culture...she builds on Joan Didion's sense of [New York] rather than just imitating, or playing tribute to her....She's obsessed with the way time passes, and especially with what it means to be young—to feel your youth draining from you in a way that feels like both a punishment and a reward...it feels utterly true. Gould is attuned to the way things around and inside her are shifting and changing, and she can't stop herself from testing certain boundaries, pushing against her surroundings to see if there's any give." —The Rumpus

"Controversial media maven Gould....traces her sentimental education through eleven vignettes of sex, relationships, and unfocused ambition." —Greenpoint Gazette

"I recently devoured...And the Heart Says Whaetver, appreciating her willingness to let her youthful unhappiness lie still, to look unblinkingly at the unpleasantness of her days and often of herself and perhaps recognize that unpleasantness as a stew from which her specific ambitions evolved, but more often to simply describe it as it was: life."—Rebecca Traister, Salon.com

"Weighty...What makes Gould's essays so readable is their utmost honesty." —Washington Post Express

"A valuable social document of a transformative time in journalism and also, thanks to Gould's evocative writing, deliciously readable...the most realistic Manhattan bildungsroman in years. The only shopping stories involve sale racks at H&M." —The Globe & Mail

"Gould [is] more than a blogger. And the Heart Says Whatever proves she's a very talented memoirist...What Gould taps into is the universal freshness of the particular pain that many people only feel as a young adult, when life starts feeling for the first time like it's spinning out of control, and you don't have the experience yet to know if you'll be able to rein it back in. There's a courage and lack of sentimentality in Gould's voice that's engaging and likeable. She's not neurotic. This is the person you'd want as a roommate in your 20s....And she has great stories...it takes a lot of balls to write about this, and only a writer of Gould's talent could pull it off." —Montreal Mirror

"[Gould] may yet prove capable of becoming her generation's Fran Lebowitz." —The Boston Globe

"In her first collection of essays, Gould tackles the tough questions that come with a life lived online." —More Magazine

"Brutally honest." —Just Books

"Honest and witty...And the Heart Says Whatever will engage you with its entertaining essays." —Hollywood the Write Way


"Pithily written." —The Observer

"Gould...is fearless." —Iowa City Press-Citizen
Free Press, 9781439123898, 224pp.
Publication Date: May 4, 2010
About the Author
Emily Gould is the author of the novels Perfect Tunes, Friendship, and the essay collection And the Heart Says Whatever. With Ruth Curry, she runs Emily Books, which publishes books by women as an imprint of Coffee House Press. She has written for The New York Times, New York, The New Yorker, Bookforum, and many other publications. She lives in New York City with her family.