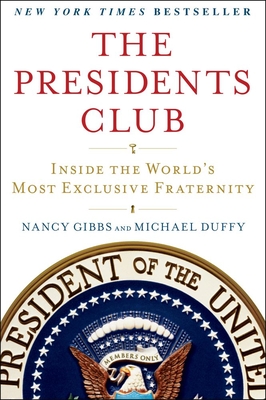 The Presidents Club
Inside the World's Most Exclusive Fraternity
Paperback

* Individual store prices may vary.
Other Editions of This Title:
Digital Audiobook (4/16/2012)
Paperback, Chinese (2/5/2020)
Description
The New York Times bestselling history of the private relationships among the last thirteen presidents—the partnerships, private deals, rescue missions, and rivalries of those select men who served as commander in chief.

The Presidents Club, established at Dwight Eisenhower's inauguration by Harry Truman and Herbert Hoover, is a complicated place: its members are bound forever by the experience of the Oval Office and yet are eternal rivals for history's favor. Among their secrets: How Jack Kennedy tried to blame Ike for the Bay of Pigs. How Ike quietly helped Reagan win his first race in 1966. How Richard Nixon conspired with Lyndon Johnson to get elected and then betrayed him. How Jerry Ford and Jimmy Carter turned a deep enmity into an alliance. The unspoken pact between a father and son named Bush. And the roots of the rivalry between Clinton and Barack Obama.

Time magazine editors and presidential historians Nancy Gibbs and Michael Duffy offer a new and revealing lens on the American presidency, exploring the club as a hidden instrument of power that has changed the course of history.
Praise For The Presidents Club: Inside the World's Most Exclusive Fraternity…
"This is essential reading for anyone interested in American politics." —Robert Dallek, bestselling author of An Unfinished Life: John F. Kennedy, 1917–1963



"Forget Rome's Curia, Yale's Skull and Bones and the Bilderbergs—the world's most exclusive club never numbers more than six. . . . Michael Duffy and Nancy Gibbs have penetrated thick walls of secrecy and decorum to give us the most intimate, revealing, and poignant account of the constitutional fifth wheel that is the ex-presidency. Readers are in for some major surprises, not to mention a history they won't be able to put down." —Richard Norton Smith, author of Patriarch: George Washington and the New American Nation



"The Presidents Club is magnetically readable, bursting with new information and behind-the-scenes details. It is also an important contribution to history, illuminating the event-making private relationships among our ex-Presidents and why we should do a far better job of drawing on their skills and experience." —Michael Beschloss, bestselling author of The Conquerers



"Nancy Gibbs and Michael Duffy have given us a great gift: a deeply reported, highly original, and wonderfully written exploration of a much-overlooked part of American history. The tiny world of U.S. presidents is our Olympus, and Gibbs and Duffy have chronicled the intimacies and rivalries of the gods." —Jon Meacham, bestselling author of American Lion: Andrew Jackson in the White House



"Michael Duffy and Nancy Gibbs have taken us inside one of the most powerful and unusual families in American life—the brotherhood of former presidents of the United States. Political junkies, historians, psychologists and main street citizens will find the tales of friendship, envy, conspiracy, competition and common cause irresistible." —Tom Brokaw, bestselling author of The Greatest Generation



"This is a brilliant idea for a book, wonderfully written! At Eisenhower's inauguration, Hoover and Truman half-jokingly decided to form a 'President's Club.' With surprising reporting and insights, this book reveals the relationships and rivalries among the few men who know what it's like to be president. It gives a new angle on history by exploring the essence of the presidency." —Walter Isaacson, bestselling author of Steve Jobs and Benjamin Franklin



"Michael Duffy and Nancy Gibbs offer more than a fresh and fascinating first look at the world's most exclusive men's club. It's a book of real substance about clashing egos and strange bedfellows at the top." —Jonathan Alter, bestselling author of The Promise



"The Presidents Club is a lucid and well-written glimpse into the modern presidency and its self-sustaining shadow organization. It's worth reading and rereading for its behind-the-scenes insights." —USA Today



"This is a great scoop . . . Amazing." —Chris Matthews, NBC



"A fabulous book . . . I absolutely love it." —Greta Van Susteren, FOX News
Simon & Schuster, 9781439127728, 656pp.
Publication Date: February 12, 2013
About the Author
Nancy Gibbs is the deputy managing editor of Time magazine and coauthor with Michael Duffy of the New York Times bestseller The Preacher and the Presidents: Billy Graham in the White House.

Michael Duffy is Time's executive editor and Washington bureau chief and directs coverage of presidents, politics, and national affairs for the magazine.