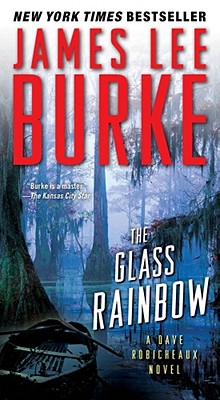 The Glass Rainbow (Mass Market Paperbound)
A Dave Robicheaux Novel
Pocket Star, 9781439128312, 560pp.
Publication Date: July 26, 2011
Description
The creator of "one of America's best mystery series" (Library Journal, starred review), New York Times bestselling author James Lee Burke features Louisiana detective Dave Robicheaux in a "superlative" (Publishers Weekly, starred review) bayou thriller. The brutal murders of seven young women in a neighboring parish pull Robicheaux from his New Iberia home into a case with all the telltale signs of a serial killer. Except that one of the victims, a high school honors student, doesn't fit. Investigating with his friend Clete Purcel, Robicheaux confronts Herman Stanga, a notorious pimp and crack dealer--but shocking violence sends the already blood-soaked case spiraling out of control. And with his daughter, Alafair, in love with a man who has dangerous ties to a once prominent Louisiana family, every dark fear Robicheaux harbors for himself and his daughter are on the precipice of becoming reality.
Praise For The Glass Rainbow: A Dave Robicheaux Novel…
"Burke, whose sonorous cadences and obsession with the past have often recalled Faulkner, has never resembled the sage of Yoknapatawpha more closely than in this magnificent attempt to get it all down between one cap and one period. "
--Kirkus (starred review)



"It takes an incredible writer to keep fresh an 18th novel featuring a character that refuses to change, but Burke does so with what may be one of the best in his Robicheaux series…Burke also continues to set the gold standard when it comes to setting, making his readers feel like they're in New Iberia with Dave and Clete…Another beautifully crafted effort by a multi-Edgar Award winner, this is an outstanding addition to one of America's best mystery series. Burke fans will not be disappointed."
--Library Journal (starred review)



"…Burke kicks into another gear: superb suspense leading to a gripping, set-piece finale that is a masterpiece of texture and mood, with the high energy climax in the foreground both contrasted against and supported by the intensely lyrical, heavily melancholic prose that swells and recedes underneath the action. Not to be missed by any follower of the landmark series."
– Booklist – starred review



"MWA Grand Master Burke offers everything his readers expect--brilliant prose, prosaic situations that suddenly become mystic experiences, and a complex plot that repeatedly plumbs the depths of human depravity and the heights of nobility…"
– Publishers Weekly (starred review)



"James Lee Burke is a colorful writer… Pick any paragraph and you'll find descriptions of reds and blues and plums and obsidians piled on top of one another, giving his prose a Kodachrome vividness… the venerable author still writes with the same intensity, and moral avidity, that energizes his equally aged hero. And while there are plenty of villains for that hero to face — including, aptly, a Delta oil tycoon — Burke's finely developed understanding of the human race prevents anything from getting too black-and-white."
--Entertainment Weekly



"James Lee Burke knows his territory."
—The New York Times Book Review



"In crafting his novels, James Lee Burke has been nothing if not consistent when it comes to quality. Or to characters and plot. His repeated battles of good versus evil in the humid crucible of southern Louisiana are expertly and stylishly rendered . . . "The Glass Rainbow" offers much that is familiar, from the brilliant lyrical wordscapes that capture bayou locations to the incomparably ruthless men and women of low or no conscience who wield power over others and threaten the way of life in Robicheaux's small corner of the world. The detective and his cohort Clete Purcell are as heroic, honorable and flawed as always. But for all that is familiar here, there are two unexpected plot elements, one of which has the potential for changing everything. . . . the suspense level is about as high as it gets in popular fiction."—Los Angeles Times



"A novel as dark and brooding as a night deep in the bayou."—The Miami Herald



"A must read for fans of the series. . . . With The Glass Rainbow James Lee Burke has once again proven his talent for creating masterful, intricate mysteries that draw the reader in. The 18th book in the Dave Robicheaux series is a twisting, turning, suspense-filled thriller."
—Seattle Post-Intelligencer



"Fans of The Girl With the Dragon Tattoo take note. Burke's latest Dave Robicheaux novel features a protagonist driven by moral certitude trying to find a killer targeting young women on society's margins and tangling with an old, wealthy family whose members act like they're above the law. It's also set in a foreign country with unusual customs and mannerisms - South Louisiana. While there's no counterpart to Lisbeth Salander, a kid named Mr. Kiss-My-Ass makes a brief appearance, and Burke's writing is deeper, stranger and less sensationalistic than Stieg Larsson's."
—San Antonio Express-News
Advertisement