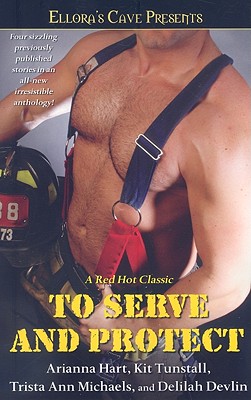 To Serve and Protect (Ellora's Cave)
Paperback

* Individual store prices may vary.
Description
When it comes to a man in a uniform, these four ladies show their insatiable lovers exactly who's the boss...in the bedroom.

ARIANNA HART
Convince Me


Socialite Sareena Wilton invites irresistible police officer Brogan Donahue into her lavish apartment after a beautiful but fierce jaguar rescues her from an armed attacker...and soon unleashes a feral passion of her own.

KIT TUNSTALL
Ablaze


When the unbelievably gorgeous firefighter who saved Miri's life convinces her there's nothing wrong with a naughty fling, she relaxes her routine and surrenders her supple body to his arousing temptations.

TRISTA ANN MICHAELS
Fantasy Bar


In disguise and on the run from the law, luscious Kira has no idea the handsome man she meets at an erotic bar is a private investigator. But instead of interrogating her, he indulges her wildest fantasies.

DELILAH DEVLIN
Ride a Cowboy


Hardened by a miserable marriage, Katelyn barely trusts the sexy young cowboy who offers to help fix up her new country home -- until he uses his strong, skillful hands to make her body tremble with pleasure.
Gallery Books, 9781439131541, 288pp.
Publication Date: November 10, 2009
About the Author
Arianna Hart lives on the East Coast with her husband and three daughters. When not teaching, writing, or chasing after her children and the dog, Ari likes to practice her karate, go for long walks, and read by the pool. She thinks heaven is having a good book, warm sun, and a drink in her hand. Until she can sit down long enough to enjoy all three, she'll settle for the occasional hour of peace and quiet.

Kit Tunstall lives in Idaho with her husband, son and dog-children. She started reading at the age of three and hasn't stopped since. Love of the written word, and a smart marriage to a supportive man, led her to a full-time career in writing. Romances have always intrigued her, and erotic romance is a natural extension because it more completely explores the emotions between the hero and heroine. That, and it sure is fun to write.

Trista Ann Michaels started writing erotic romance two years ago. Raised an Air Force brat, she married a Navy man and they have three children. Trista's a big believer in happily ever after and although she may put her characters through hell getting there, they always achieve that goal.

Delilah Devlin is a prolific and award-winning author of erotica and erotic romance with a reputation for writing deliciously edgy stories with complex characters. Whether creating dark, erotically charged paranormal worlds or richly descriptive historical stories that ring with authenticity, Delilah Devlin "pens in uncharted territory that will leave the readers breathless and hungering for more" (Paranormal Reviews). Ms. Devlin has published over 140 erotic stories in multiple genres and lengths, including Hot SEAL, Decoy Bride; First Response; Her Only Desire; Texas Cowboys; and so much more.
or
Not Currently Available for Direct Purchase