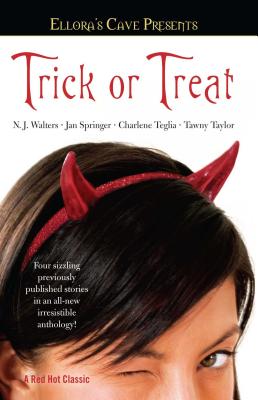 Trick or Treat (Ellora's Cave)
Paperback

* Individual store prices may vary.
Description
These ladies dress up and strip down to fulfill their sexiest
role-playing fantasies with four irresistible hotties....

N. J. WALTERS
Unmasking Kelly

It's the night of the masquerade party at Brannigan's Pub, and waitress Kelly Allen is squeezing her voluptuous body into a tight little costume so she can make her hardbodied boss Liam work for a naughty Halloween treat.

JAN SPRINGER
Sinderella

By night, klutzy Ella becomes a masked vixen in her erotic performances of Cinderella. When Prince Charming stands her up, her sexy colleague Dr. Roarke Stephenson comes to her rescue for one passionate night of hot, blazing sex...in front of an audience.

CHARLENE TEGLIA
Wolf in Cheap Clothing

Wearing her slinkiest bikini, Lou is on the hunt for the rogue werewolf who changed her -- until a gorgeous, towering hunk takes her hostage on the beach for an unforgettable excursion of carnal pleasure.

TAWNY TAYLOR
Stolen Goddess

Kylie wakes up in a strange world, bound and stripped bare, with a large -- very hard, very naked -- man insisting she belongs to him. She should be scared, but instead she succumbs to his arousing demands...and gets the most electrifying surprise of her life.
Gallery Books, 9781439131558, 288pp.
Publication Date: October 13, 2009
About the Author
N.J. Walters has always been a voracious reader of romance novels, and now she spends her days writing novels of her own. Vampires, dragons, time-travelers, seductive handymen, and next-door neighbors with smoldering good looks all vie for her attention. It's a tough life, but someone's got to live it.

Jan Springer is the pseudonym for an award winning best selling author who writes erotic romance and romantic suspense at a secluded cabin nestled in the Haliburton Highlands, Ontario, Canada. She has enjoyed careers in hairstyling and accounting, but her first love is always writing. Hobbies include kayaking, gardening, hiking, traveling, reading and writing.

Charlene Teglia is the award-winning author of seventeen novels and novellas in a variety of erotic romance subgenres. She lives in Washington with her husband and two daughters. Visit her website at www.charleneteglia.com.

Tawny Taylor, a mother and wife from suburban Detroit, has written several erotic romances with heroes inspired by movie stars, her favorite television actors, and her husband. Visit her website at www.tawnytaylor.com.