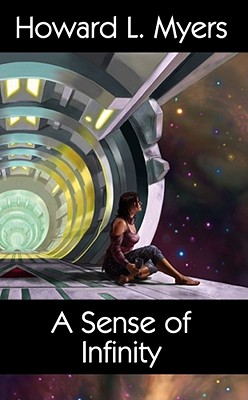 A Sense of Infinity
Mass Market Paperbound

* Individual store prices may vary.
Description
1. Howard L. Myers, during his brief but impressive career, was published in all the leading science fiction magazines in the 1960s and 1970s. This book is a treasure trove of some of the best writing of that period. 2. The Creatures of Man, a previous collection of Myers' stories, was praised by Library Bookwatch as ." . . a 1960s classic . . . All the stories] are choice reads." 3. Advertising in Locus, more. 4. Featured book on Baen.com. - In a post-apocalyptic world, telepaths are common, but young Starn had no trace of telepathic ability, and was persecuted by those who had the talent--until he discovered he possessed an even more unusual ability. - A criminal mastermind has been captured by the Space Patrol, and a Patrol ship is carrying him to a prison planet. Escape seems impossible, but he has a secret weapon. It's only water--but water with a very unusual property. - In the afterlife, it turns out that one's existence is dependent on being remembered by the living. As you are forgotten, you shrink. How do you avoid this? Why, hire an unearthly public relations firm, of course. These stories and more, including two full-length novels, fill a large volume of entertaining space adventure and humorous fantasy Inventive by a writer noted for original ideas developed with a sardonic wit.
Baen Books, 9781439132784, 586pp.
Publication Date: June 30, 2009
About the Author
Howard L. Myers was a prolific writer of science fiction, publishing short fiction in all the leading SF magazines, as well as the novel Cloud Chamber. His stories also were reprinted in many anthologies. His promising career was cut short when he died at the age of 41.
or
Not Currently Available for Direct Purchase