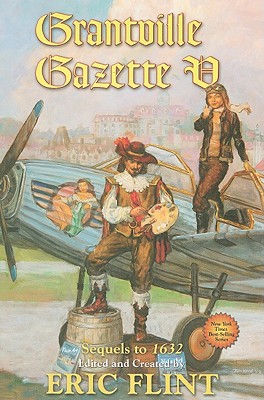 Grantville Gazette V
Hardcover

* Individual store prices may vary.
Other Editions of This Title:
Mass Market (2/22/2011)
Description
The most popular alternate history series of all continues. When an inexplicable cosmic disturbance hurls your town from twentieth century West Virginia back to seventeenth century Europe—and into the middle of the Thirty Years War—you'd better be adaptable to survive. And the natives of that time period, faced with American technology and politics, need to be equally adaptable. Here's a generous helping of more stories of Grantville, the American town lost in time, and its impact on the people and societies of a tumultuous age.

· Cardinal Richelieu, France's insidious master plotter and power behind the throne, learns of his prominent role in Dumas' not-yet-written novel The Three Musketeers (not to mention the several movie versions), and starts a search for the "real" D'Artagnan.

· Grantville is selling crystal radio sets so that Europeans can tune in to the Voice of America broadcasts, but the technicians from the future are at wit's end, trying to reproduce "primitive" early twentieth century broadcasting equipment by trial and error—until a trained library researcher shows up in town.

· Wilhelm Krieger, one of Germany's greatest philosophers, comes to Grantville to learn the philosophy of the future—and meets a contrarian cracker-barrel philosopher.

· The Dalai Lama of the seventeenth century receives a strange gift: an image of the Buddha which glows by a strange mystical force called "electricity."

And much more, including stories by the New York Times best-selling writers Eric Flint and Virginia DeMarce, in the latest installment of this best-selling alternate history series.
Baen, 9781439132791, 464pp.
Publication Date: August 11, 2009
About the Author
Eric Flint is a modern master of alternate history fiction, with three million books in print. He's the author/creator of the multiple New York Times best-selling Ring of Fire series, starting with first novel 1632. With David Drake he has written six popular novels in the "Belisarius" alternate Roman history series, and with David Weber he has collaborated on 1633 and 1634: The Baltic War, as well as four novels in Weber's Honorverse series. Flint was for many years a labor union activist. He lives near Chicago, Illinois.
or
Not Currently Available for Direct Purchase