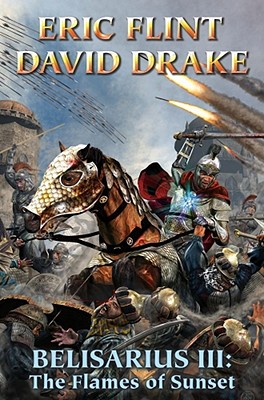 Belisarius III (Paperback)
The Flames of Sunset
Baen, 9781439133026, 928pp.
Publication Date: August 11, 2009
Other Editions of This Title:
Hardcover (8/11/2009)
* Individual store prices may vary.
Description
Concluding the popular Belisarius saga, with two full-length novels in one volume:

The Tide of Victory: The creators of the monster called Link once were human, but that was distant ages in their past. Now, from the far future, they have sent their creation back to rule the Malwa Empire, then to conquer and shape the world of the sixth century A.D. into the form that will make their own foul existence possible. Those in the future who never were human have sent their own messenger to the past: Aide, a gleaming jewel who has come to Belisarius, the greatest general of the sixth century and perhaps any century. Between them they have forged an alliance of all the world against the evil from the far future—and an army that can be the spear through evil's heart.

The Dance of Time: The Malwa and their evil have been driven back to their Indian heartland, but there they coil to strike again. Ruled by a monster from the future that is part computer and part demon, they prepare a fresh attack whose success will leave them rulers of the world—and the monster that guides the Malwa will rule the whole future. Guided by Aide, Belisarius has arrayed the forces of Mankind against the Malwa evil. There is no hope for Mankind if he fails—so he must not fail! The triumphant conclusion of the Belisarius saga.
About the Author
Eric Flint is a modern master of alternate history fiction, with over three million books in print. He's the author/creator of the multiple New York Times best-selling Ring of Fire series starting with first novel 1632. With David Drake he has written six popular novels in the "Belisarius" alternate Roman history series, and with David Weber collaborated on 1633 and 1634: The Baltic War and latest Honorverse series entry Cauldron of Ghosts. Flint's latest Ring of Fire novel is 1636: The Ottoman Onslaught. Flint was for many years a labor union activist. He lives near Chicago, Illinois.
or
Not Currently Available for Direct Purchase