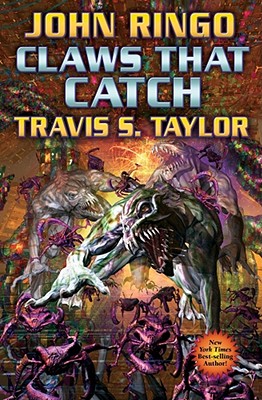 Claws That Catch
Mass Market

* Individual store prices may vary.
Other Editions of This Title:
Digital Audiobook (2/11/2010)
Hardcover (11/4/2008)
Description
First Time in Paperback.
The Sequel to Into the Looking Glass, Vorpal Blade and Manxome Foe.

It's Not Over Til The Skinny Lady Sings . . .

Working off of a piece of intelligence from our alien allies, the Vorpal Blade is dispatched to investigate rumors of an ancient and powerful civilization that may have been the creators of the "black box" that drives humanity's only space ship. Any remnant technology would be nice but what the Blade finds is much more than they bargained for. Worse, the ship is infested by an alien species of scorpion-like arachnoids that has the potential to wipe out a world. Worst of all, instead of being Astrogator, Captain William Weaver is now the XO and he is not getting along with the new commander. And the new commander does not get along with Weaver, the ship's female savant-linguist or most of the rest of the original crew. And what is that weird noise the ship makes every time it's in hard maneuvers?

Leave it to the oddball geniuses of the Blade to sort it all out. And the Dreen are not going to like the answers.
Baen, 9781439133132, 528pp.
Publication Date: November 24, 2009
About the Author
John Ringo brings fighting to life. He is the creator of the Posleen Wars series, which has become a New York Times best-selling series with more than one million copies in print. The series contains A Hymn Before Battle, Gust Front, When the Devil Dances, Hell's Faire, and Eye of the Storm. In addition, Ringo has penned the Council War series. Adding another dimension to his skills, Ringo created nationally best-selling techno-thriller novels about Mike Harmon (Ghost, Kildar, Choosers of the Slain, Unto the Breach, and A Deeper Blue). His techno-thriller The Last Centurion was also a national bestseller. A more playful twist on the future is found in novels of the Looking-Glass series: Into the Looking Glass, Vorpal Blade, Manxome Foe, and Claws That Catch, the last three in collaboration with Travis S. Taylor. His audience was further enhanced with four collaborations with fellow New York Times best-selling author David Weber: March Upcountry, March to the Sea, March to the Stars, and We Few. There are an additional seven collaborations from the Posleen series: The Hero, written with Michael Z. Williamson, Watch on the Rhine, Yellow Eyes, and The Tuloriad, all written with Tom Kratman, and the New York Times bestseller Cally's War and its sequels Sister Time and Honor of the Clan, all with Julie Cochrane. His science-based zombie apocalypse Black Tide Rising series includes Under a Graveyard Sky, To Sail a Darkling Sea, Islands of Rage and Hope, and Strands of Sorrow. A veteran of the 82nd Airborne, Ringo brings firsthand knowledge of military operations to his fiction.
or
Not Currently Available for Direct Purchase