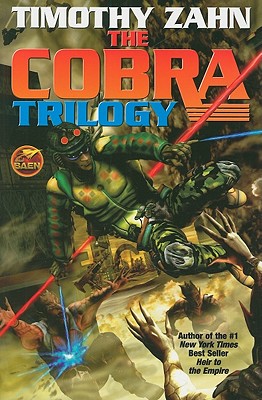 The Cobra Trilogy (Baen Books Megabooks)
Paperback

* Individual store prices may vary.
Description
He was a New Kind of Soldier, Created for a New Kind of War. The complete Cobra Trilogy, by the New York Times Best-Selling Author. Now in Premium Plus Paperback. The colony worlds Adirondack and Silvern fell to the Troft forces almost without a struggle. Outnumbered and on the defensive, Earth made a desperate decision. It would attack the aliens not from space, but on the ground--with forces the Trofts did not even suspect. Thus were created the Cobras, a guerilla force whose weapons were surgically implanted, invisible to the unsuspecting eye, yet undeniably deadly. But power brings temptation . . . and not all the Cobras could be trusted to fight for Earth alone. Jonny Moreau would learn the uses--and abuses--of his special abilities, and what it truly meant to be a Cobra.
Baen, 9781439133187, 949pp.
Publication Date: November 3, 2009
About the Author
Timothy Zahn is a Hugo Award-winner, and author of the New York Times best seller Heir to the Empire. Born in Chicago, he earned a B.S. in physics from Michigan State University and an M.S. in physics from the University of Illinois. He sold his first story to Analog in 1978, and immediately attracted attention as a new writer of science fiction based on real, cutting-edge science. Baen recently published his popular Cobra trilogy in one volume. His other popular series include the "Conqueror" and "Dragonback" novels. Zahn has written over twenty novels, including the recent works Angelmass and Manta's Gift.