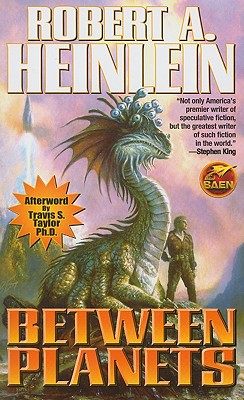 Between Planets (Mass Market Paperbound)
Baen Books, 9781439133217, 274pp.
Publication Date: September 28, 2009
Description
A Sweeping Story of Interplanetary War. The Grand Master of Science Fiction. "One of the most influential writers in American literature." --The New York Times Book Review. Don Harvey was attending school on Earth when his parents suddenly and urgently called him home to Mars. He had been skeptical about the talk of interplanetary war breaking out if Mars and Venus followed through on their threats to declare independence from Earth, but he was wrong. War broke out, and he was stuck on Venus, with no way of getting home. Then there was the ring that an old family friend had given him just before he had left Earth. Shortly afterward, the friend had been questioned by Earth's secret police and had died--from "heart failure," they claimed. When Earth troops landed on Venus and started looking for Don and that mysterious ring, he realized that he was trapped in the center of a war between worlds that could change the fate of the Solar System forever.
About the Author
Robert A. Heinlein was the greatest science fiction writer who ever lived. His novels have been translated into every literate language on the globe--over 25 million Heinlein books are in print in this country alone. For five decades, young readers of science fiction discovered Heinlein, then gone on to voraciously devour every Heinlein book they can get their hands on. His now-legendary Stranger in a Strange Land was the first hardcover bestseller by a science fiction writer. From 1975 on, every new Heinlein novel made the New York Times best-seller list and shipped a million copies, including The Number of the Beast, Friday, Job: A Comedy of Justice, The Cat Who Walks Through Walls, and To Sail Beyond the Sunset. In a career spanning half a century, he wrote over forty books, and four of his novels won Hugo Awards, an unequalled record for almost four decades. For the last three generations of readers, Heinlein is science fiction.
Advertisement