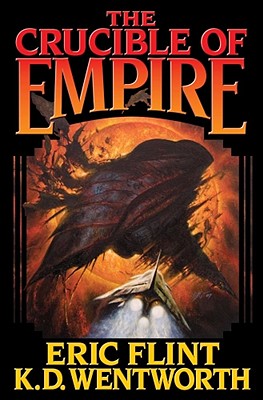 The Crucible of Empire (Hardcover)
Baen, 9781439133385, 428pp.
Publication Date: March 2, 2010
Other Editions of This Title:
Mass Market (1/31/2012)
MP3 CD (5/3/2016)
* Individual store prices may vary.
Description
The Sequel to the Critically-Praised The Course of Empire. Space Adventure from a New York Times Best-Selling Author. Reviewing The Course of Empire, Publishers Weekly wrote, "Can a proud and warlike people find common cause with their alien conquerors in the face of a greater danger? That's the question that military SF ace Flint and two-time Nebula Award finalist Wentworth ask in this thought-provoking far-future novel. . . . The authors excel at describing how human and Jao customs clash, allowing the reader to discover along with the characters the core beliefs of each society and how these beliefs could be adjusted and harmonized with one another. . . . Building to an exhilarating conclusion, this book cries out for a sequel."
The cry has been heard--and now, here's the sequel
About the Author
Eric Flint is the author of the New York Times best seller 1634: The Galileo Affair (with Andrew Dennis)- a novel in his top-selling "Ring of Fire" alternate history series. His first novel for Baen, Mother of Demons, was picked by Sciemce Fiction Chronicle as a best novel of the year. His 1632, which launched the ring of Fire series, won widespread critical praise, as from Publishers Weekly, which called him "an SF author of particular note, one who can entertain and edify in equal, and major measure." A longtime labor union activist with a master's degree in history, he currently resides in northwest Indiana with his wife Lucille. K.D. Wentworth is author of seven novels, including Black on Black and Stars Over Stars for Baen, and more than fifty short stories, which appeared in such magazines as Fantasy & Science Fiction, Hitchcock's Mystery Magazine, Realms of Fantasy, and others. She is a winner in the Writers of Future contest, and has been a Nebula Award finalist twice. Her latest novel is This Fair Land (Hawk), an alternate history fantasy of the era of Columbus. She attributes her success to having a very large dog and a wonderful husband, not necessarily in that order, and lives with both in Tulsa Oklahoma.
or
Not Currently Available for Direct Purchase