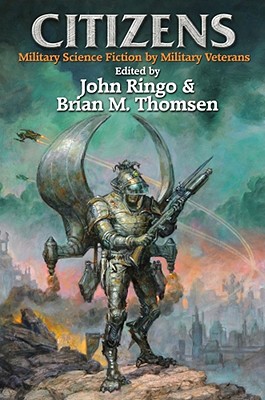 Citizens (Paperback)
Baen, 9781439133477, 304pp.
Publication Date: May 11, 2010
Other Editions of This Title:
Mass Market Paperbound (7/26/2011)
* Individual store prices may vary.
Description
Science Fiction by the Best Writers in the Field—Who Also Happen to be Veterans of Their Countries' Armed Forces—Selected by a New York Times Best-Selling Veteran-Author and a Hugo-Nominee Editor.

Citizens is a new kind of science fiction anthology. The names appearing between its covers are not only veteran authors, among the very best in the field, they are military veterans as well. New York Times best-selling author John Ringo (a veteran of the 82nd Airborne) and Brian M. Thomsen, a Hugo finalist and one of the most respected editors in the field, have selected a treasure trove of gems written by writers who know first hand what it means to wear their country's uniform.
Among the top writers appearing in Citizens are Robert A. Heinlein, Arthur C. Clarke, Elizabeth Moon, Gordon R. Dickson, David Drake, Joe Haldeman, Harry Harrison, Keith Laumer, Frederik Pohl, Jerry Pournelle, Gene Wolfe and more, nearly all authors of best sellers, and recipients of Hugo and Nebula awards. Citizens will have strong appeal to readers of military science fiction, as well as more general readers.


About the Author
John Ringo is author of the New York Times best-selling series known by most as "The Posleen Wars" comprising A Hymn Before Battle, Gust Front, When the Devil Dances, Hell's Faire, plus the tangential novels Calley's War, Sister Time, and Honor of the Clan (all with Julie Cochrane), and A Watch on the Rhine and Yellow Eyes (both with Tom Kratman). He also co-authored—with David Weber—March Upcountry, March to the Sea, March to the Stars and We Few in the best-selling Prince Roger series. He had visited 23 countries by the time he graduated high school. A veteran of the 82nd Airborne, he brings first-hand knowledge of military operations to his fiction.

Brian M. Thomsen was an editor at Warner Books (where he was one of the founders of their Questar SF and fantasy line), then later at TSR, and finally did freelance editing for Tor Books. He was nominated for the Hugo Award for best editor, was the author of two novels (Once Around the Realms and The Mage in the Iron Mask), several nonfiction books, over forty short stories, and edited fifteen anthologies. He also served as a World Fantasy Award judge. He died of a heart attack on September 21, 2008.