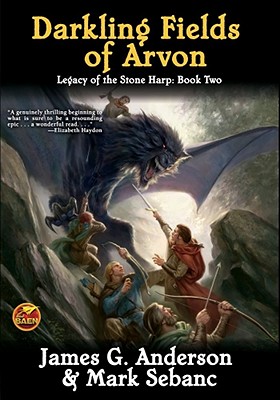 Darkling Fields of Arvon
Legacy of the Stone Harp: Book Two
Paperback

* Individual store prices may vary.
Other Editions of This Title:
MP3 CD (6/30/2020)
Compact Disc (6/30/2020)
Mass Market Paperbound (11/29/2011)
Description
Second in a New Trilogy of Epic Fantasy in the Tradition of Tolkien. In the wake of the catastrophic invasion that has levelled the Stoneholding, the last bastion of order in the world of Ahn Norvys, Kalaquinn Wright Pursues the mission entrusted to him. Freshly invested as High Bard, sets forth across lands that lie under a dark cloud of uncertainty and strife, charged with the task of finding the lost Prince Starigan. This is but the first step in rekindling the Sacred Fire and restoring peace to a broken world. The task, however, will not be an easy one, for the Talamadh, the golden harp that binds together heaven and earth in sacred harmony, remains in the clutches of the tyrant Ferabek. After securing safe haven for the remnant folk of his clanholding, Kal and his companions venture into the lowlands of Arvon, a palce of looming danger. Despite the adversities of a world sinking into the world sinking into the twilight of darkness and chaos, the young Holdsman keeps faith and its sustained by the loyalty of friends, the resources he begins to discover in himself, and unwavering hope. In his quest for the lost prince, moreover, Kal learns that royalty is to be founsd in unexpected quarters. By fate's caprice, Kal falls prey to his enemies. In the trail that befalls him, his mettle is tested, and he draws upon an inner strength that he has never known before. He also discovers that the Talamadh, with which Ardiel, once High King of Arvon, inaugurated the Great Harmony, though weak falerting, still retains a vestige of its ancient potency. But will it be enough to stem the tide of chaos that floods over darkling fields of Arvon?
Baen Books, 9781439133538, 424pp.
Publication Date: May 11, 2010
About the Author
James G Anderson is a teacher, catechist, musician, and poet, and holdsa BA and MA in theology from Francican University in Steubenville, OH. His interests range from gardening to flying fish, from winemaking to songwriting. He lives with his wife and three sons on the Canadian prairies outside Saskatoon, Saskatchewan. Mark Sebanc has worked as an editor and translator, with several books to his credit. He holds B.A. and M.S.degrees in classics from the University of Toronto. When not engaged in wordsmithing, he enjoys playing hockey, splitting firewood, and savoring the peace of his backwoods farm on the edge of the Canadian Shield in the Upper Ottawa valley of Ontario.
or
Not Currently Available for Direct Purchase