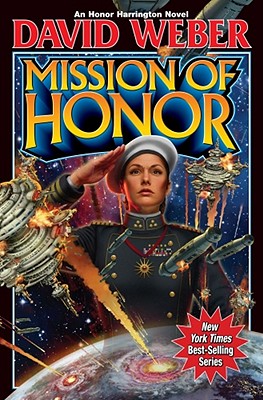 Mission of Honor, 13 (Honor Harrington #13)
Hardcover

* Individual store prices may vary.
Other Editions of This Title:
Mass Market (6/28/2011)
MP3 CD (3/17/2015)
Compact Disc (7/27/2010)
Description
Honor Harrington is Back. The New York Times Best-Selling Series Continues. 3.8 Million Honor Harrington Books in Print 7 Million David Weber Books in Print 17 New York Times Best Sellers The Star Kingdom of Manticore and the Republic of Haven have been enemies for Honor Harrington's entire life, and she has paid a price for the victories she's achieved in that conflict. And now the unstoppable juggernaut of the mighty Solarian League is on a collision course with Manticore. The millions who have already died may have been only a foretaste of the billions of casualties just over the horizon, and Honor sees it coming. She's prepared to do anything, risk anything, to stop it, and she has a plan that may finally bring an end to the Havenite Wars and give even the Solarian League pause. But there are things not even Honor knows about. There are forces in play, hidden enemies in motion, all converging on the Star Kingdom of Manticore to crush the very life out of it, and Honor's worst nightmares fall short of the oncoming reality. But Manticore's enemies may not have thought of everything after all. Because if everything Honor Harrington loves is going down to destruction, it won't be going alone.
Baen, 9781439133613, 608pp.
Publication Date: June 22, 2010
About the Author
With more than eight million copies of his books in print and 33 titles on the New York Times bestseller list, David Weber is a science fiction powerhouse. In the vastly popular Honor Harrington series, the spirit of C.S. Forester's Horatio Hornblower and Patrick O'Brian's Master and Commander lives on--into the galactic future. Books in the Honor Harrington and Honorverse series have appeared on 21 bestseller lists, including The Wall Street Journal, The New York Times, and USA Today. Additional Honorverse collaborations include the spin-off miniseries Manticore Ascendant with New York Times best-selling author, Timothy Zahn; and with Eric Flint, Crown of Slaves and Cauldron of Ghosts contribute to his illustrious list of New York Times and international bestseller lists. Best known for his spirited, modern-minded space operas, Weber is also the creator of the Oath of Swords fantasy series and the Dahak saga, a science fiction and fantasy hybrid. Weber has also engaged in a steady stream of best-selling collaborations: the Starfire Series with Steve White; The Empire of Man Series with John Ringo; the Multiverse Series with Linda Evans and Joelle Presby; and the Ring of Fire Series with Eric Flint. David Weber makes his home in South Carolina with his wife and children.
or
Not Currently Available for Direct Purchase