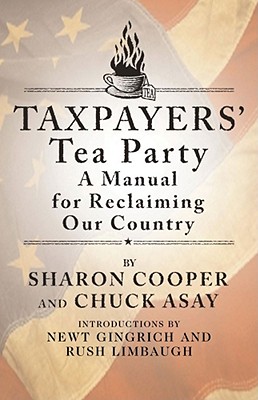 Taxpayers' Tea Party
How to Become Politically Active--And Why
Paperback

* Individual store prices may vary.
Description
A Manual for Political Revenge A Step-by-Step guide to a Citizens' Revolution Tax Payers are in Revolt, with Tea Party Protests Across the Nation. Written by a Leading State Congresswoman, With a Foreword by Newt Gingrich and an Introduction by Rush Limbaugh. Profusely illustrated by Award-Winning Cartoonist Chuck Asay. In living rooms across America, citizens are struggling to pay their taxes and also struggling to believe that the same congressmen they elected on promises of not increasing those taxes are not planning to do just the opposite. Sally Jefferson is one of those Americans, but she's not just going to mouth off to her coworkers about how tough it is. She and her friends are going to DO something about it this time, and prove that democracy still works in the process. Taxpayers' Tea Party is more than a manual for political revenge; it's step-by-step guide in cartoon form to carry out our own American Revolution.
Baen Books, 9781439133637, 177pp.
Publication Date: June 15, 2010
About the Author
Sharon Cooper is currently serving her sixth term as the State Representative for the 41st District of Georgia. In 2002, she was elected Caucus Chair by her Republican Colleagues, and in 2004, as the Majority Caucus Chairman, she became the highest ranking woman in the Georgia House.Currently Rep. Cooper chairs the Health and Human Services committee, one of the busiest committees the House. Rep. Cooper is also a member of Rules, Judiciary Non-Civil, and Higher Education committees. In 2007, in response to her ever increasing committee responsibilities she assumed the role of Caucus Chair Emeritus. Rep. Cooper holds several degrees, including a BS in Child Development; a MA in Education and MSN in Nursing. Sharon has written two textbooks on Psychiatric Nursing and in 1994 she authored the original edition of Taxpayers' Tea Party--a how-to book that encouraged the average citizen to become politically active. Chuck Asay has been a political cartoonist for over 30 years, drawing cartoons for The Taos News, The Colorado Springs Sun, and The Gazette in Colorado Springs. He is retired as a staff cartoonist but still cranks out four cartoons each week for Creators Syndicate. He won an award for the "Best of the West" cartoon in 1989, the R. C. Hollies Award in 2000 and is a two-time winner of the H. L. Mencken Award. His award-winning views appear in publications nation-wide and he gets lots of hate mail.
or
Not Currently Available for Direct Purchase