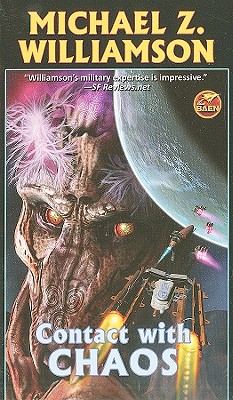 Contact with Chaos
Mass Market

* Individual store prices may vary.
Other Editions of This Title:
MP3 CD (6/7/2016)
Hardcover (4/7/2009)
Description
Warning: Aliens Ahead.

First Time in Paperback. Space Action by a New Star of Military Science Fiction.

When an exploration ship from Freehold discovered a planet with intelligent lifeforms—the first humans had ever encountered—it should have been the most important event in history. And it might be—for all the wrong reasons.



Corporations on Freehold were eager to sell high-tech toys to the Ithkuil, as the inhabitants called themselves, which had the potential to disrupt their society. Then there was the U.N., which controlled the planet Earth. Earth and Freehold were not on good terms, to put it mildly, and the U.N. immediately sent its own ship to make contact with the Ithkuil. If the authoritarians from Earth started throwing their weight around, Freehold would have to push back, causing anything from a diplomatic incident to outright war. And then another ship arrived, full of idealistic do-gooders determined to keep the Ithkuil in their unspoiled state of nature . . .



The whole thing was turning into a cross between a Marx Brothers farce and a Kafkaesque nightmare, with a potential for Greek tragedy. Contact with a more advanced civilization might pose a danger to the Ithkuil, but it definitely was becoming more dangerous to the human factions, and the situation was a powder keg just waiting for a spark to cause a very deadly explosion. . . .
Baen, 9781439133736, 464pp.
Publication Date: June 29, 2010
About the Author
Michael Z. Williamson was born in Birkenhead, England and raised in Liverpool, and Toronto, Canada, before moving to Columbus, Ohio. An 18-year veteran of the US Army and US Air Force, he is a state-ranked competitive shooter in combat rifle and combat pistol. His other books include: Freehold, The Weapon, Better to Beg Forgiveness (all from Baen); the Target Terror series for Harper-Collins; and Hero, a collaboration with New York Times best-selling author John Ringo for Baen. He currently lives in Indianapolis with his wife Gail, their two children, and various cats that are not to be trusted.