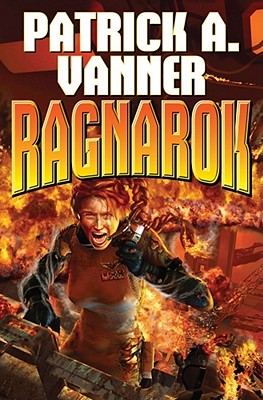 Ragnarok
Paperback

* Individual store prices may vary.
Other Editions of This Title:
Mass Market (8/30/2011)
Description
Mankind is Fighting a War for Its Very Survival--and Will be Defeated Unless a Human Traitor Can be Unmasked. Space Battle Action by a New Star of Military Science Fiction. "The only thing better than kick-butt intelligent space opera is kick-butt intelligent heroines. Ragnarok is a two-fer." --John Ringo, New York Times Best-Selling Author of the Posleen War Series Captain Alexandra "Alex" McLaughlin is not a woman to be underestimated. Under her petite exterior is a spine of solid steel and a disposition to laugh in the face of impending death. A former member of the Terran Navy's elite force, the Dead Jokers, electronic-warfare pilots with a mortality rate to match that of old Japan's Kamikazes, Alex is a born survivor. But sometimes survival can be a curse. Humanity is locked in a war of survival with the Xan-Sskarn, an alien race that refuses to acknowledge the rights of "weaker" creatures to live. It is a war that will not end with a peace treaty, but only the complete subjugation of one species to the other. And right now, the alien side is winning. However, the enemy on the outside is not the only one to be faced. As the battles take on an eerily familiar pattern of no-win scenarios, Alex realized the horrifying truth; humanity has a traitor, and it's somebody close. As each battle brings more death, Alex's ghosts grow and so does her desire for vengeance. There is only one way for this to end, and Alex is just the human to take it there--to Ragnarok.
Baen, 9781439133842, 352pp.
Publication Date: September 7, 2010
About the Author
Patrick A. Vanner was born into a Marine family, and, after attending Penn State University, majoring in aerospace and electrical engineering, he enlisted in the Marine Corps like his parents before him. After a successful military tour, he earned a degree in network administration and began a career in telecommunications and information technology. He divides his time between working, reading, writing, gaming and spending an exorbitant amount of money on anime, giving truth to the saying, "Anime, it's more addictive than crack." Patrick currently lives with the love of his life, Heather, and four insane cats that make their lives interesting in every sense of the ancient Chinese curse.
or
Not Currently Available for Direct Purchase