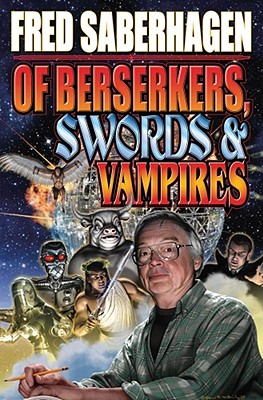 Of Berserkers, Swords & Vampires
A Saberhagen Retrospective
Mass Market Paperbound

* Individual store prices may vary.
Other Editions of This Title:
Paperback (6/9/2009)
Description
The Many Worlds of a Best-Selling Master of Science Fiction and Fantasy Best-selling author Fred Saberhagen created three popular series: his Berserker stories and novels telling of the endless war of humans and their alien allies against the Berserkers, gigantic robot battleships programmed by an unknown extinct race to destory all life in the galaxy; his high fantasy Lost Swords series; and his Dracula series, the first novels to tell a story from the vampire's point of view. In a book that will be irresistible for the thousands of Saberhagen fans, all three series are represented here, as well as gems from his other series, including his first-published story and his last-written story, marking the endpoints of a remarkable writer's remarkable career that spanned more than four decades As Joan Spicci Saberhagen writes in her foreword, "Even Fred's most ardent fans will have a fresh look at his talents. Whatever the setting, Fred's stories provide fast moving action and a thought-provoking theme.
Baen Books, 9781439133934, 394pp.
Publication Date: September 28, 2010
About the Author
Fred Saberhagen was the top-selling author of many popular science fiction and fantasy series, told in over forty novels and sixty short stories. His Berserkers menaced the universe for over 40 years. His "Swords" and "Lost Swords" stories caught the imagination of many fantasy readers. Equally intriguing are his exploits in the area of historical fantasy where figures such as Hitler and Lincoln, Daedalus and the pharaohs, populated his alternate worlds. On the border of history and fantasy he created a unique picture of an old favorite, Dracula. Many of his works also appeared in audio and e-book format. Before abandoning himself to imagination, he served in the US Air Force, worked as a civilian electronics technician, and wrote and edited articles on science and technology for the Encyclopedia Britannica. Born and raised in Chicago, he later lived and worked with his wife, Joan Spicci, in Albuquerque, New Mexico, where he died in 2007.
or
Not Currently Available for Direct Purchase