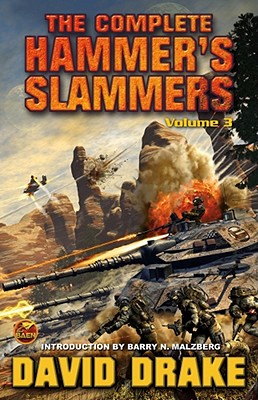 The Complete Hammer's Slammers (Paperback)
Baen, 9781439133965, 738pp.
Publication Date: November 2, 2010
Other Editions of This Title:
Paperback (10/6/2009)
Hardcover (11/1/2007)
* Individual store prices may vary.
Description
The Third of Three Volumes Collecting the Complete Best-Selling Series That Rocketed David Drake to Military Science Fiction Stardom. This Omni-Trade paperback volume collects the two full-length novels, The Sharp End and Paying the Piper, plus "The Darkness," a novelette which has not appeared in previous Slammers books. The Hammers are very flawed and imperfect human beings--but they know their jobs, and they get those jobs done, one way or another. If your nation or your planet is under attack, and you want plaster saints to save the day . . . well, lots of luck, and it's been nice knowing you. But if you really want your chestnuts pulled out of the fire, hire Colonel Hammer's troops. They'll never win a beauty contest, or even a consolation price for "most congenial," but they'll win the war--because they're the best. They're Hammer's Slammers. This is the third of a three volume set presenting for the first time the entire genre-defining Slammers series in uniform Omni-trade paperback volumes, with new introductions by major SF figures and new afterwords by David Drake. Each volume will also include a Slammers story not collected in previous Slammer's books. "Fans of Drake's edgy stories of a mercenary tank regiment in a future not all that different from our present will rejoice at the publication of] the entire series in three volumes. Drake, a Vietnam vet who served in the Blackhorse Regiment, uses prose as cold and hard as the metal alloy of a tank to portray the men and women of Hammer's Regiment. . . . In his depiction of combat, Drake rivals Crane and Remarque." --Publishers Weekly, reviewing the Night Shade hardcover edition.
About the Author
David Drake was attending Duke University Law School when he was drafted. He served the next two years in the Army, spending 1970 as an enlisted interrogator with the 11th armored Cavalry in Viet Nam and Cambodia. Upon return he completed his law degree at Duke and was for eight years Assistant Town Attorney for Chapel Hill, North Carolina. He has been a full-time freelance writer since 1981. Besides the best-selling Hammer's Slammers series, his books for Baen include the popular Leary of the RCN series, with seven volumes so far: With the Lightnings; Lt. Leary, Commanding; The Far Side of the Stars; The Way to Glory; Some Golden Harbor, When the Tide Rises and In the Stormy Red Sky. His "Lord of the Isles" fantasy novels for Tor are genre best sellers. Among his other Baen titles are Ranks of Bronze, All the Way to the Gallows, Redliners, and many more.