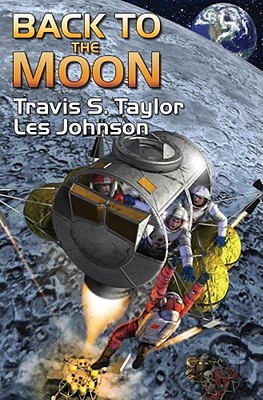 Back to the Moon (Hardcover)
Baen, 9781439134054, 303pp.
Publication Date: December 7, 2010
Other Editions of This Title:
Mass Market (12/27/2011)
* Individual store prices may vary.
Description
The Saga of the Return to the Moon, This Time to Stay--and the Technological Problems are the Simplest to Solve. Science Fiction by Two Scientists Who Know Both Science and the Ways of Government Bureaucracies. Praise for Travis S. Taylor " Warp Speed] reads like Doc Smith writing Robert Ludlum. . . .You won't want to put it down." --John Ringo "In the tradition of Golden Age SF . . . explodes with inventive action . . . dazzling . . . cutting-edge scientific possibilities. . . ." --Publishers Weekly Praise for Les Johnson: ." . . Solar Sails: A Novel Approach to Interplanetary Travel . . . convincingly captures the history of ideas about solar sails, their current state of play and their future promise. ... Suitable for aerospace students and keen enthusiasts alike. . . ." --Stuart Clark, Nature "I can recommend this book Living Off the Land in Space: Green Roads to the Cosmos] to everyone interested in the future of space exploration." --Claude Semay, Physicalia
About the Author
Travis S. Taylor--"Doc" Taylor to his friends--has earned his soubriquet the hard way: He has a doctorate in optical science and engineering, a master's degree in physics, a master's degree in aerospace engineering, a master's degree in astronomy, and a bachelor's degree in electrical engineering. Dr. Taylor has worked on various programs for the Department of Defense and NASA for the past sixteen years. He's currently working on several advanced propulsion concepts, very large space telescopes, space-based beamed energy systems, and next generation space launch concepts. He has appeared in several episodes of the History Channel's Universe series. He lives in Auburn, AL with his wife Karen and their daughter. Les Johnson is a NASA physicist, manager, author, husband and father. By day, he serves as the Deputy Manager for the Advanced Concepts Office at the NASA George C. Marshall Space Flight Center in Huntsville, Alabama, one of the coolest jobs in the universe. In the early 2000s, he was NASA's Manager for Interstellar Propulsion Research and later managed the In-Space Propulsion Technology Project. He was technical consultant for the movie Lost in Space and has appeared on the Discovery Channel series, "Physics of the Impossible" in the "How to Build a Starship" episode. He has also appeared in three episodes of the Science Channel series, Exodus Earth. In his spare time he writes popular science books and articles, including Solar Sails: A Novel approach to Interplanetary Travel, Living Off the Land in Space: Green Roads to the Cosmos and Paradise Regained: The Regreening of Earth.
or
Not Currently Available for Direct Purchase