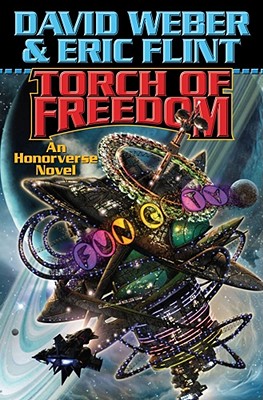 Torch of Freedom (Crown of Slaves #4) (Mass Market)
Baen, 9781439134085, 880pp.
Publication Date: December 28, 2010
Other Editions of This Title:
Hardcover (11/17/2009)
MP3 CD (4/29/2014)
MP3 CD (4/30/2013)
MP3 CD (4/30/2013)
Compact Disc (4/30/2013)
Compact Disc (4/30/2013)
* Individual store prices may vary.
Description
New York Times Best Seller. Wall Street Journal Best Seller.
First Time in Paperback.
A New Novel in David Weber's Best-Selling Honor Harrington Universe
FIRST TIME IN PAPERBACK!
NEW YORK TIMES
AND
WALL STREET JOURNAL
BEST SELLER!
As the slavemasters of
Mesa
plot against the Star Empire of Manticore and the newly liberated slave planet of Torch, Anton Zilwicki and the notorious Havenite secret agent Victor Cachat set off on a dangerous mission to uncover the truth concerning a wave of mysterious assassinations that have been launched against Manticore and Torch. Most people are sure that the
Republic of Haven
is behind the assassinations, but Zilwicki and Cachat suspect others of being the guilty party.
Queen
Berry
of Torch was one of the targets of the unknown assassins. The former head of the Ballroom slave liberation organization, Jeremy X—now one of Torch's top officials, but still considered by many the most dangerous terrorist in the galaxy—calls in some past favors owed to him. In response, a security officer from Beowulf arrives in Torch to take charge of Queen
Berry
's security—a task made doubly difficult by the young monarch's resentment of bodyguards and the security officer's own growing attachment to her.
Meanwhile, powerful forces in the Solarian League are maneuvering against each other to gain the upper hand in what they all expect to be an explosive crisis that threatens the very existence of the League itself.
About the Author
David Weber
is author of the
New York Times
best-selling Honor Harrington series as well as
In Fury Born
and other popular novels. With Steve White, he is the author of
Insurrection
,
Crusade
,
In Death Ground
, and the
New York Times
best seller
The Shiva Option
, all novels based on his
Starfire
SF strategy game.
Eric Flint
, with David Drake, has written six popular
novels in the Belisarius series, now being reissued in
hardcover omnibus volumes, and with David Weber
collaborated on
1633
and
1634: The Baltic War
,
novels in the Ring of Fire series, and on
Crown of
Slaves
, the prequel to
Torch of Freedom
and a best
of the year pick by
Publishers Weekly
.
Flint
received
his masters degree in history from UCLA and was for
many years a labor union activist. He lives in
East
Chicago, IL
, with his wife and is working on more
books in the best-selling Ring of Fire series.