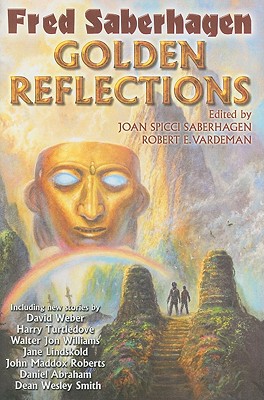 Golden Reflections (Hardcover)
Baen Books, 9781439134153, 467pp.
Publication Date: February 1, 2011
Other Editions of This Title:
Mass Market Paperbound (12/27/2011)
* Individual store prices may vary.
Description
A Classic Novel of Adventure in Time and in Alternate Worlds by a Best-Selling Master of Science Fiction--Plus Stories Set in the Same Universe by David Weber, Harry Turtledove, Walter Jon Williams, John Maddox Roberts, Jane Lindskold and More Top Writers. Mike Gabrieli's brother Tom has always had one talent: getting into trouble. But this time, Tom has disappeared after mysteriously gaining possession of a priceless Aztec artifact. Mike sets out to find Tom, never suspecting that he is about to be shuttled back and forth in time, and between alternate universes. The descendants of the Incas have a plan to keep Pizarro and his conquistidors from overthrowing their ancestors' empire. In spite of Mike's sympathy for their cause, he faces the possibility that, instead of creating an alternate world with the Incas ascendant, he may be wiping out the world he was born into, and himself along with it. In addition to Fred Saberhagen's novel, The Mask of the Sun, seven top writers have contributed stories set in the same universe. The contributors include New York Times best-selling authors David Weber and Harry Turtledove, as well as Walter Jon Williams, John Maddox Roberts, Jane Lindskold, and more, expanding on Fred Saberhagen's concept and bringing their own perspectives to this volume of exciting alternate universe adventure.
About the Author
Fred Saberhagen was the top-selling author of many popular science fiction and fantasy series, told in over forty novels and sixty short stories. His Berserkers menaced the universe for over 40 years. His "Swords" and "Lost Swords" stories caught the imagination of many fantasy readers. Equally intriguing are his exploits in the area of historical fantasy where figures such as Hitler and Lincoln, Daedalus and the pharaohs, populated his alternate worlds. On the border of history and fantasy he created a unique picture of an old favorite, Dracula. Many of his works also appeared in audio and e-book format. Before abandoning himself to imagination, he served in the US Air Force, worked as a civilian electronics technician, and wrote and edited articles on science and technology for the Encyclopedia Britannica. Born and raised in Chicago, he later lived and worked with his wife, Joan Spicci, in Albuquerque, New Mexico, where he died in 2007.
or
Not Currently Available for Direct Purchase