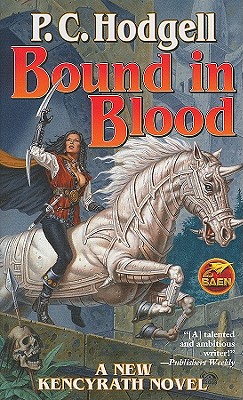 Bound in Blood
N/A
Mass Market

* Individual store prices may vary.
Other Editions of This Title:
Paperback (3/2/2010)
Description
First Time in Mass Market Paperback. The Long-Awaited Fifth Novel in the Acclaimed Fantasy Adventure Series.

When Jame returned to Knorth hall to help her brother Torisen name all the fallen fighters' death banners stored there, she made the disturbing discovery that those banners splattered with their owners' blood also have trapped their owners' souls. She also found a contract proving her cousin Kindrie to be legitimate, proving that there are three full-blooded Knorth. Three full-blooded Knorth means that the Three-Faced God can be manifested—something that none of the three are likely to want to do, if they have any choice in the matter. .

Returning with this unwelcome knowledge to school at Tentir, Jame continued to dodge the attentions of an unwanted admirer, strengthen her link to her feline hunting ounce, work with the rathorn colt Death's-head to insure that it doesn't resume its attempts to kill her, and, of course, kept causing plenty of unintended havoc. She also had to help fight off attacks from hillmen, repel a stampede of yarkcarn (think warthogs the size of mammoths), fight in the Winter War (a mock conflict—or, at least, that's how it was supposed to be), and solve the mystery behind the death of her evil uncle, who somehow is still spectrally manifesting himself in nasty ways.

No doubt about it—Jame is back, and with a vengeance, as the popular and critically-praised fantasy adventure series continues.

"P.C. Hodgell writes the most strikingly weird and wonderful stories in epic fantasy today."—Charles Stross

"Hodgell has crafted an excellent and intricate fantasy with humor and tragedy, and a capable and charming female hero. Highly recommended." —Library Journal
Baen, 9781439134238, 448pp.
Publication Date: January 25, 2011
About the Author
Pat Hodgell can't remember a time when she wasn't passionately interested in science fiction and fantasy. She's sold stories to such anthologies as Berkley Showcase, Elsewhere III, and Imaginary Lands and has also published four novels. God Stalk and Dark of the Moon, the novels included in The God Stalker Chronicles, begin her critically praised fantasy saga which is concerned not! only with high adventure, but also with questions of personal identity, religion, politics, honor, and arboreal drift. She earned her doctorate at the University of Minnesota with a dissertation on Sir Walter Scott's Ivanhoe, and is a graduate of both the Clarion and the Milford Writers Workshops. Recently retired, she was a lecturer at the University of Wisconsin-Oshkosh in modern British literature and composition, and teaches an distant training course on science fiction and fantasy for the University of Minnesota. Pat lives in Oshkosh, Wisconsin, in a nineteenth-century wood-framed house, which has been in her family for generations. In addition to writing and teaching, she attends science fiction conventions, collects yarn, knits, embroiders, raises cats, and makes her own Christmas cards.
or
Not Currently Available for Direct Purchase