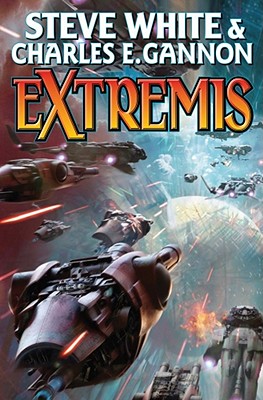 Extremis
N/A (Starfire #6)
Hardcover

* Individual store prices may vary.
Other Editions of This Title:
Mass Market (4/24/2012)
Description
The New Sequel to Exodus and the New York Times Best Seller, The Shiva Option.

Once before, the sentient races in the known part of the galaxy—humans, Orions, Ophiuchi and Gorm—had united to defeat alien invaders. Decades later, the member planets of the alliance had grown complacent—until a huge fleet of ships, each ship larger than a city, arrived, fleeing the loss of their home planet when their star went nova.

They have traveled for centuries, slower than light, and now that they have arrived at the world they intend to make their new home. They regard the fact that the planet is already colonized by humans as a mere inconvenience, the more so since their mode of communication is so different from anything humans use that they do not consider humans and their allies to be truly intelligent. And the arriving aliens know—or, at least, they believe—that when they die they will be reincarnated, so they do not hesitate to attack humans and their allies with suicidal fury. And, if necessary, they will exterminate all humans and their allies, if that's what it takes to occupy the planet.

That was their attitude on arrival, but the conquerors have learned from human technology. They now know all about reactionless drives, so much more efficient than rocket engines. And they have learned about the jump points which make faster-than-light travel possible. With that knowledge, they plan to conquer the entire inhabited region of the galaxy—unless the old alliance of humans and other being can stop them . . . .
Baen, 9781439134337, 640pp.
Publication Date: May 3, 2011
About the Author
Charles E. Gannon is the author of Compton Crook Award-winning, Nebula-nominated Fire with Fire, Trial by Fire, and Raising Caine in the Caine Riordan series. He is the coauthor with Eric Flint of 1636: The Papal Stakes and 1636: Commander Cantrell in the West Indies in Eric Flint's best-selling Ring of Fire series. With best seller Steve White, Gannon is the coauthor of Starfire series entries Extremis, Imperative, and Oblivion. Gannon is also the author of multiple short stories. He is a member of SIGMA, the "SF think tank," which has advised various intelligence and defense agencies since the start of the millennium. A former professor, Gannon lives near Annapolis, Maryland, with his wife and children.
or
Not Currently Available for Direct Purchase