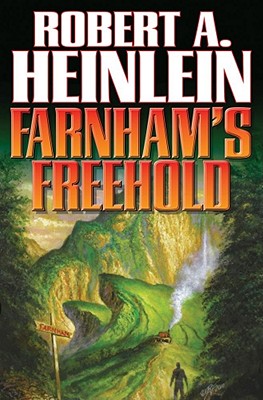 Farnham's Freehold
Paperback

* Individual store prices may vary.
Other Editions of This Title:
Mass Market (2/1/1994)
Compact Disc (8/1/2012)
Description
A science fiction classic, with an all-new celebrity introduction and afterword A nuclear holocaust throws a brave and tough-minded family into a future where they are considered traitors and sub-humans and where they must fight tooth-and-claw to avoid becoming slaves to the benighted survivors of the war. A Robert A. Heinlein classic reissued with an all new celebrity forward by noted Heinlein biographer Bill Patterson and afterword penned by three-time award-winner for fan writing and science fiction scholar John Hertz. It's a cross-time fight for freedom as a family retreats to a bomb shelter during a nuclear attack - only to emerge hundreds of years in the future, thrown forward in time by the blasts. There lifeboat ethics rule as they struggle to survive...until they're discovered by up-time humans, the survivors of the apocalypse. These survivors are of African descent. Down-time humans - in fact, all of the European-descended - are held guilty for the state into which the world has fallen and designated as automatic slaves. The only escape is to find a way back down-time, to change events sufficiently to make absolute certain this nightmare future never get a chance to happen in the first place About Robert A. Heinlein:
"Not only America's premier writer of speculative fiction, but the great writer of such fiction in the world." - Stephen King. "One of the grand masters of science fiction." - Wall Street Journal
Baen, 9781439134436, 296pp.
Publication Date: June 7, 2011
About the Author
Robert A Heinlein is considered one of the "Big Three" of classic science fiction (along with Isaac Asimov and Arthur C. Clarke). Heinlein is a seven-time Hugo Award recipient and was given the first Grand Master Nebula Award for lifetime achievement. Heinlein's juveniles alone have influenced generations of scientists, engineers and creators the world over (for instance, it was once estimated that everyone in the Apollo 11 mission control room had read and loved at least one Heinlein novel). His worldwide bestsellers include Stranger in a Strange Land, Starship Troopers, Time Enough for Love, and The Moon Is a Harsh Mistress.