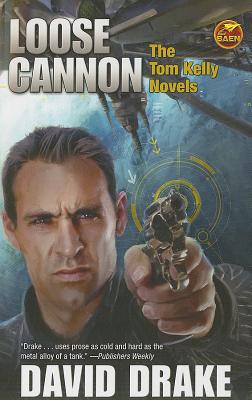 Loose Cannon (Tom Kelly) (Paperback)
Baen, 9781439134504, 590pp.
Publication Date: July 5, 2011
Other Editions of This Title:
Mass Market (7/31/2012)
* Individual store prices may vary.
Description
Military science fiction master David Drake's two technothriller Tom Kelly novels Skyripper and Fortress in one volume. Tom Kelly uses whatever means are at hand to fulfill save the U.S., and ultimately planet Earth, from alien attack and totalitarian domination at the hands of our "friends" the Russians. David Drake's two Tom Kelly technothrillers in one volume. Day-after-tomorrow technothriller action with a raw, gritty and extremely effective hero you might want to forget, but can't, fending off Soviet aggression and alien attack. Skyripper
During the Cold War, a Soviet scientist has knowledge the Earth will be attacked by aliens, but only the U.S. has the laser-based technology to knock out the alien weaponry. Enter Tom Kelly, American spy, navigator of the U.S. intelligence agency spaghetti, and ruthlessly effective operative when it comes to doing his job. Kelly will get the information into the right hands to save most of humanity - but in the process, he's prepared to annihilate anyone who gets in the way of his duty. Fortress
Tom Kelly and his ruthless, adventurous ways return in an alternate past as JFK builds a space station to guard against alien attack. Now nefarious forces with the Soviet Union as well as actual, evil aliens are trying to turn it against Earth, and the U.S. THEY may have the high ground and the element of surprise on their hands, but WE have Tom Kelly. For better or worse. Or both. Says David Drake of his Loose Cannon hero: "Tom Kelly is me on a very bad day. Kelly also has virtues; but he won't compromise, and he's absolutely ruthless." About David Drake:
" P]rose as cold and hard's the metal alloy of a tank...rivals Crane and Remarque..." - Chicago Sun-Times "Drake couldn't write a bad action scene at gunpoint." - Booklist "The fun is in the telling, and Mr. Drake has a strong voice. I want more " -Philadelphia Weekly Press " C]haracter development combined with first-rate action and memorable world designs." -SFReader.com
About the Author
David Drake was attending Duke University Law School when he was drafted. He served the next two years in the Army, spending 1970 as an enlisted interrogator with the 11th armored Cavalry in Viet Nam and Cambodia. Upon return he completed his law degree at Duke and was for eight years Assistant Town Attorney for Chapel Hill, North Carolina. He has been a full-time freelance writer since 1981. His books include the genre-defining and bestselling "Hammer's Slammers" series, the "RCN" series including In the Stormy Red Sky, The Way to Glory, and many more.
or
Not Currently Available for Direct Purchase