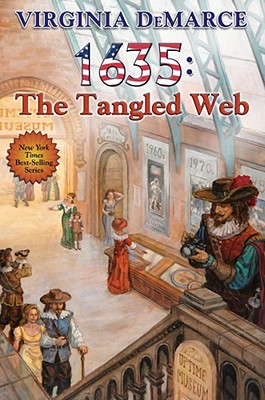 1635
The Tangled Web
Mass Market Paperback

* Individual store prices may vary.
Other Editions of This Title:
Paperback (12/1/2009)
Description
This is a follow-up to New York Times best-seller Eric Flint and ace historian Virginia DeMarce's 1634: The Bavarian Crisis. Here DeMarce follows Flint's "alternate timeline" and delivers another entry in the hugely popular Ring of Fire alternate history series. Freedom-loving modern Americans thrown back in time must carve out lives in war-torn 17th century Europe - a time and place that's got one foot firmly planted in the Dark Ages. Long-time Eric Flint collaborator and Stanford-educated historian Virginia DeMarce delivers an intricate web of interrelated adventures in alternate history master Eric Flint's hugely popular "Ring of Fire" series. A cosmic accident sets the modern town of Grantville, West Virginia, down in war-torn seventeenth century Europe and a new nation is forged. Now bewildered down-timers and freedom-loving future folk who lived near the "displaced" form the future must learn to weave their lives together. 21st century ideals run head-on into medieval skullduggery - along with a few admirable ancient customs that aren't going to crumble overnight. Or ever. Up-timer and down-timer alike fight it out, strike deals, and forge a new nation. To do so, both sides must break a few mind-forged manacles in the process. About 1634: The Bavarian Crisis by Eric Flint and Virginia DeMarce:
." . . fascinating reading. . . . It is especially refreshing to read...how modern ideas of human rights, education...and law might have affected the Europe of the 30 Years War." --Publishers Weekly About Eric Flint's "Ring of Fire" series:
"This alternate history series is...a landmark..." - Booklist " Eric] Flint's 1632 universe seems to be inspiring a whole new crop of gifted alternate historians."-Booklist ..".reads like a technothriller set in the age of the Medicis..."- Publishers Weekly ..".each new entry appears better than the previous one, a seemingly impossible feat...terrific." - Midwest Book Review
Baen , 9781439134542, 528pp.
Publication Date: June 28, 2011
About the Author
Virginia DeMarce received her Ph.D. in early modern European history from Stanford University. She has published a book on German military settlers in Canada after the American Revolution and has served as president of the National Genealogical Society. She's taught at Northwest Missouri State University and at George Mason University, DeMarce is the co-author with Eric Flint of the New York Times best seller, 1635: The Bavarian Crisis.
or
Not Currently Available for Direct Purchase