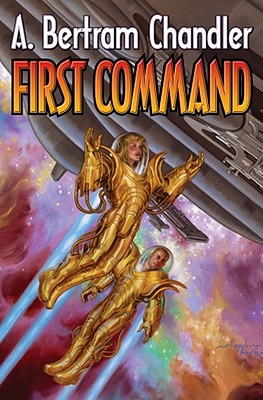 First Command
Paperback

* Individual store prices may vary.
Other Editions of This Title:
Mass Market (10/30/2012)
Description
The #2 omni edition of the classic science fiction of A. Bertram Chandler's John Grimes books, with eight legendary adventure novels in one volume. Pipe-smoking, action-loving spaceship commander John Grimes (think Captain Kirk with more of a navy, salty attitude) retires from heroic days in Earth's space navy only to be immediately thrown into adventures on the remote edge of the galaxy. The second in a three-volume collection of the legendary John Grimes books Classic Star Trek meets the high seas. If space travel is going to be anything like sailing the oceans, then A. Bertram Chandler has surely caught its absolute essence in his Grimes novels. Here it is, the entire "Captain John Grimes - Far Traveller Courier" saga, collected in one volume. These are the tales of John Grimes' action-packed merchantman and courier years. After moving on from the Terran Navy, Grimes tries his hand at leading a private life, and finds he likes being his own man. The only problem is, his ship The Far Traveller has a (very stubborn and very feminine) mind of its own -- and a penchant for getting Grimes into the worse sort of interplanetary pickles Includes: The Far Traveller (with the classic John Grimes stories that started it all), Star Courier, To Keep the Ship, Matilda's Stepchildren, Star Loot, The Anarch Lords, The Last Amazon, and The Wild Ones. About A. Bertram Chandler:
"He writes his stories in the middle of a hurricane with his typewriter lashed to his desk." - John W. Campbell, legendary editor of Astounding Science Fiction
Baen, 9781439134573, 724pp.
Publication Date: August 2, 2011
About the Author
A. Bertram Chandler was an Australian SF master who filled magazines such as Astounding with adventure and space opera extraordinaire during the 1960s and 1970s. He was a favorite of legendary editor John W. Campbell and was a merchantman seaman commanding various ships in the Australian and New Zealand navies during much of his early life - a background Chandler puts to full use in his John Grimes stories.
or
Not Currently Available for Direct Purchase