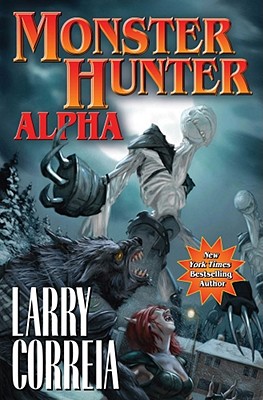 Monster Hunter Alpha (Mass Market)
Baen, 9781439134580, 560pp.
Publication Date: July 26, 2011
Other Editions of This Title:
MP3 CD (10/1/2014)
* Individual store prices may vary.
Description
#3 in the break-out, best-selling Monster Hunter series. Earl Harbinger, head of Monster Hunter International, faces down an old nemesis -- a very nasty former KGB werewolf who is working to create a new, unstoppable breed.

Dirty Harry meets Twilight. #3 in the break-out series and a follow-up to Monster Hunter International and Monster Hunter Vendetta.

Earl Harbinger may be the leader of Monster Hunter International, but he's also got a secret. Nearly a century ago, Earl was cursed to be werewolf. When Earl receives word that one of his oldest foes, a legendarily vicious werewolf that worked for the KGB, has mysteriously appeared in the remote woods of Michigan, he decides to take care of some unfinished business. But another force is working to bring about the creation of a whole new species of werewolf. When darkness falls, the final hunt begins, and the only thing standing in their way is a handful of locals, a lot of firepower, and Earl Harbinger's stubborn refusal to roll over and play dead.

Here's a sample of Larry Correia's prose punch from series opener, Monster Hunter International: "I didn't wake up that morning and decide that I was going to kill my boss with my bare hands. It was much more complicated than that."

About Monster Hunter International
"[A] no-holds-barred all-out page turner that is part science fiction, part horror, and an absolute blast to read."– Bookreporter.com

About the "Monster Hunter" series:
"If you love monsters and action, you'll love this book. If you love guns, you'll love this book. If you love fantasy, and especially horror fantasy, you'll love this book." – Knotclan.com
About the Author
Larry Coreia is an award-winning competitive shooter, a movie-prop-gun master and, yes, an accountant by day – but an urban noir adventure master by night. He is very bald and lives in Utah.