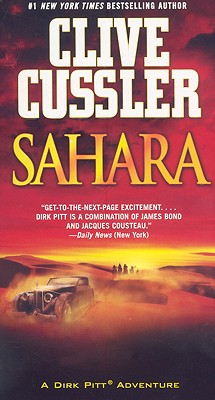 Sahara (Mass Market Paperbound)
Pocket Star Books, 9781439135686, 693pp.
Publication Date: June 30, 2009
Description

Clive Cussler's breathtaking thriller is now available in a premium edition in an exciting new package.

Egypt, 1996. Searching for a treasure on the Nile, Dirk Pitt thwarts the attempted assassination of a beautiful U.N. scientist who's investigating a disease that is driving thousands of North Africans into madness, cannibalism, and death. The suspected cause of the raging epidemic is vast, unprecedented pollution that threatens to extinguish all life in the world's seas. Racing to save the world from environmental catastrophe, Pitt and his team, equipped with an extraordinary, state-of-the-art yacht, run a gauntlet between a billionaire industrialist and a bloodthirsty West African tyrant. In the scorching desert, Pitt finds a gold mine manned by slaves and uncovers the truth behind two enduring mysteries--the fate of a Civil War ironclad and its secret connection with Lincoln's assassination, and the last flight of a long-lost female pilot. Now, amidst the blazing, shifting sands of the Sahara, Dirk Pitt will make a desperate stand--in a battle the world cannot afford to lose.
About the Author
Clive Cussler's life nearly parallels that of his hero, Dirk Pitt. Whether searching for lost aircraft or leading expeditions to find famous shipwrecks, he has garnered an amazing record of success. With his NUMA crew of volunteers, Cussler has discovered more than sixty lost ships of historic significance.
Praise For Sahara…
-- Washington Post Book World
"...refreshing escapist entertainment."



Stephen Coonts
"Don't even peek at SAHARA until you're ready to read every word. America's finest adventure writer, Clive Cussler, has given us the ultimate Dirk Pitt tale, s taut zinger that I couldn't put down."



Minneapolis Star Tribune
"Clive Cussler is at his absolute, riotous, violent, macho best in SAHARA.... Dirk Pitt is a godsend ... The finale is no less than splendid."



Flint Journal
"Dirk Pitt is at it again... proving himself indestructible to the bad guys and irresistible to beautiful women -- and irresistible to readers as well!.... Terrifically fun...."



United Press International
"Clive Cussler gets more wild and mischievous with every new book.... SAHARA is a fast-moving string of adventures with some outrageous side plots.... A tour de force...."



Sunday Oklahoman
"It's Dirk Pitt at his adventurous best...."



Publishers Weekly
"Cussler champions ecological issues with verve, and continues his love affair with history.... Great fun... putting Beau Geste swashbucklers against the vilest of villains."



Newport News Daily Press
"Cussler gives us one of his most consistently enjoyable books in years.... Romance, violence, technology, and history all blend swimmingly into another adventure in which that old lethal smoothy Dirk Pitt can really raise some hell.... Cussler knows how to make action flow."



New York Daily News
"An ecological thriller with sideshows, and some most imaginative escapes and close calls.... There are some delicious villains.... It all comes together, but more than that, it leaves Cussler with a real problem, and that is how to top himself."



Raleigh News & Observer
"SAHARA is a great way to spend an afternoon. Or two. Or three.... A good-time book, a swashbuckling adventure.... You can't help but enjoy it."
Advertisement