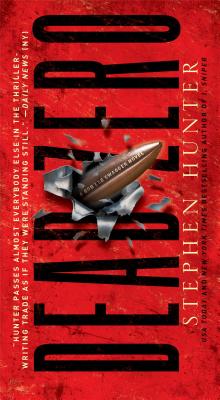 Dead Zero (Mass Market)
A Bob Lee Swagger Novel
Pocket Star, 9781439138663, 528pp.
Publication Date: August 23, 2011
Other Editions of This Title:
Compact Disc (10/1/2013)
Hardcover (12/28/2010)
MP3 CD (8/11/2015)
Compact Disc (12/28/2010)
Compact Disc (10/1/2013)
Hardcover, Large Print, Large Print (2/1/2011)
Compact Disc (12/1/2010)
MP3 CD (12/28/2010)
MP3 CD (10/1/2013)
* Individual store prices may vary.
Description
From New York Times bestselling author and Pulitzer Prize winner Stephen Hunter comes a thriller that pits former Marine sniper Bob Lee Swagger against the only man who might be able to outshoot him.

A marine sniper team on a mission in tribal territories on the Afghan-Pakistan border, Whiskey 2-2 is ambushed by professionals using the latest high-tech shooting gear. Badly wounded, the team's sole survivor, Gunnery Sergeant Ray Cruz, aka "the Cruise Missile," is determined to finish his job. He almost succeeds when a mystery blast terminates his enterprise, leaving a thirty-foot crater where a building used to be—and where Sergeant Cruz was meant to be hiding.

Months pass. Ray's target, an Afghan warlord named Ibrahim Zarzi, sometimes called "The Beheader," becomes an American asset in the region and beyond, beloved by State, the Administration, and the Agency. He arrives in Washington for consecration as Our Man in Kabul.

And that brings Ray Cruz out of hiding.

Swagger, the legendary hero of seven of Hunter's novels from Point of Impact to last year's bestselling I, Sniper, is recruited by the FBI to stop the Cruise Missile from reaching his target. The problem is that the more Swagger learns about what happened in Zabol, the more he questions the US government's support of Zarzi and the more he identifies with Cruz as hunter instead of prey.
About the Author
Stephen Hunter has written over twenty novels. The retired chief film critic for The Washington Post, where he won the 2003 Pulitzer Prize for Distinguished Criticism, he has also published two collections of film criticism and a nonfiction work, American Gunfight. He lives in Baltimore, Maryland.
Praise For Dead Zero: A Bob Lee Swagger Novel…
"Stephen Hunter's brilliantly realized action tale Dead Zero sets a sniper to catch a sniper. And it should come as no surprise that the sniper doing the catching is none other than Hunter's seminal series hero Bob Lee Swagger. . . . Once again Swagger hits the bull's-eye and so does Hunter. Master of the modern gunfighter tale, he isn't just the best action writer of this generation, but the best of any."—The Providence Journal



"It's probably no accident that the hero of Stephen Hunter's Dead Zero is named Bob Lee Swagger. Few authors, of any genre, write with as much swagger and verve as film-critic-turned-thriller-bestseller Hunter. . . . As expected, Hunter once again writes with a brutal beauty."—Ft. Worth Star Telegram



"Reading a Bob Lee Swagger novel is like visiting your favorite uncle, the one with the mysterious limp, the locked gun safe, and whose wild tales are often truncated by your concerned parents…It's a complicated story with the usual twists and spinouts and double-crosses, but what lifts it above the fray is its smarts and its broad cast of decently drawn characters."—Chicago Sun-Times



"Hunter, 64, is the longtime (and Pulitzer Prize-winning) film critic for The Baltimore Sun and The Washington Post, and the Swaggers—Bob and his father, Earl—are his most memorable creations. . . . As the latest adventure opens, Ray Cruz—a much younger and equally gifted Marine sniper—is tracking Ibrahim Zarzi, a corrupt Afghan politician nicknamed "The Beheader" . . . Armed with his SR-25, Cruz is inventive, charismatic and, in short, everything Bob the Nailer used to be. Dead Zero is at its best when Hunter has Cruz in the novel's crosshairs." . . . I can only hope it's the novel that finally convinces Hunter to flesh out the history of a new sniper and allow Bob the Nailer the retirement he so richly deserves."—The Oregonian



"Despite overwhelming critical acclaim for his seven-book Bob Lee Swagger series, Stephen Hunter and his novels seem to stay under the general readership radar. . . . The books are so well-crafted and expertly written that it's easy to forget they're adventure-thrillers."—Sacramento Bee



"Stephen Hunter's Bob Lee Swagger is getting to be almost as popular as James Lee Burke's Dave Robicheaux or Lee Child's Jack Reacher series. This 'old coot,' as Swagger calls himself, has a staying power that won't quit. . . . Bob Lee Swagger and his marine hero dad Earl are super soldiers in the world of fiction. . . . In Dead Zero, Swagger uncharacteristically hunts with the pack. And he doesn't like it one bit. There's a marine sniper out there who just won't die. He mirrors Swagger in his talent and intensity. His name is Ray Cruz . . . Dead Zero is packed with Hunter's patented action sequences, great character studies and sinister villains working on their doctorate in Power. Here's hoping we see more of the unstoppable Ray Cruz. He'd make a fitting successor in Hunter's army elite."—Madison County Herald.com



"The only book better than a new Jack Reacher novel is a new Bob Lee Swagger adventure. Dead Zero, with a dynamite plot and riveting characters, is everything any action fan could want as Swagger, now hitting Senior Citizenhood, pits his wits against a man who could be a younger version of himself."—Toronto Globe and Mail



"[A] juicy premise, which Hunter admits adapting from Patrick Alexander's 1977 Death of a Thin-Skinned Animal; transformed to a contemporary setting, it evokes the government-treachery themes of '24' but does so with less cartoony derring-do and a considerably more nuanced exploration of the psychology of the soldier. . . . A top-notch thriller."—Booklist (starred review)



"Stellar . . . Solid characterization complements the tight, fast-moving plot."—Publishers Weekly (starred review)



"In Hunter's latest, Bob Lee Swagger stalks Bob Lee Swagger. Well, just about. If anyone could be more valorous, more skilled and resourceful, more uncompromisingly upright, and at the same time more downright deadly than Bob Lee Swagger, it would have to be Gunnery Sergeant Ray Cruz. . . . [An] intricate, interchanging game of predator to prey and prey to predator."—Kirkus Reviews