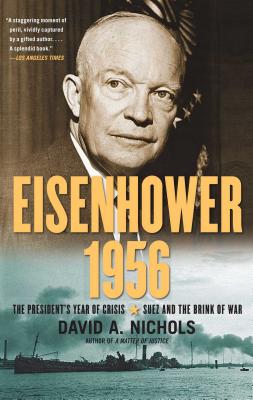 Eisenhower 1956 (Paperback)
The President's Year of Crisis--Suez and the Brink of War
Simon & Schuster, 9781439139349, 368pp.
Publication Date: February 14, 2012
Other Editions of This Title:
Hardcover (3/8/2011)
* Individual store prices may vary.
Description
A gripping tale of international intrigue, betrayal, and personal drama during the darkest days of the Cold War, Eisenhower 1956 is the first major book to examine the event in thirty years. Debunking most historians' opinion that the Suez crisis was merely a minor incident linked to the end of colonial rule in Egypt, Eisenhower 1956--drawing on hundreds of newly declassified documents--makes clear that it was the most dangerous crisis of Eisenhower's presidency. Eisenhower used economic threats to force his British, French, and Israeli allies to withdraw from Egypt and put U.S. military forces on alert to deter Soviet intervention in the Middle East. Current U.S. policy in the region dates to the Suez crisis, when we replaced Great Britain as the guarantor of stability. Acclaimed Eisenhower expert David Nichols masterfully weaves great personal drama--Eisenhower's two life-threatening illnesses--with simultaneous world crises (America's closest allies invade Egypt while the Soviets invade Hungary) and the final days of the 1956 presidential election campaign into a white-knuckle read.
About the Author
David A. Nichols, a leading expert on the Eisenhower presidency, is the author of A Matter of Justice: Eisenhower and the Beginning of the Civil Rights Revolution and Lincoln and the Indians. He lives in Winfield, Kansas.
Praise For Eisenhower 1956: The President's Year of Crisis--Suez and the Brink of War…
"A staggering moment of peril, vividly captured by a gifted author. . . . A riveting and relevant analysis of a sequence of events that placed the great nations of the period at the brink of a world war. . . . A pioneer in the Eisenhower landscape . . . Nichols captures all of this with his trademark precision. . . . A splendid book."
--Jim Newton, Los Angeles Times


One of "7 History Books Worth Checking Out in 2011"
--Christian Science Monitor


"A richly contextual reappraisal of a telling year in the presidency. . . . A suspenseful study that moves chronologically through the days in which the U.S. government was on tenterhooks. . . . A solid revisiting of this compelling leader about whom we are still learning."
--Kirkus Reviews


Advance Praise for
Eisenhower 1956
"David Nichols' Eisenhower 1956 is magnificent, the definitive account of one of the most crucial years of Eisenhower's presidency and of his most dangerous foreign crisis. Nichols' rigorous use of primary sources is not only a model for historians, but it also makes for a superb read."
--Jean Edward Smith, author of FDR and Grant


"David Nichols's book on Eisenhower's momentous year is fresh and insightful—and powerful and exciting. The more we know about Ike's subtle but masterful ability to keep the peace, the more we miss his kind in politics and government."
--Evan Thomas, author of The War Lovers


"Eisenhower 1956 is a wonderfully suspenseful account of perhaps the most dangerous crisis of the Cold War, and demonstrates brilliantly how well Eisenhower handled it—despite the fact that he was recovering from a heart attack—employing deft diplomacy, a matchless sense of how to use America's power, steely firmness even towards old friends and allies, and a strong sense of what was right, in the pursuit of peace."
--Michael Korda, author of Ulysses S. Grant, Ike, and Hero


"Hampered by serious illness, President Eisenhower nevertheless brilliantly managed the Suez crisis of 1956. Historian David Nichols, using new archival documentation, reveals Ike's strategy to bring peace to the Middle East in a riveting blow-by-blow fashion. A truly important work of scholarship. Highly recommended."
--Douglas Brinkley, Professor of History at Rice University and author of The Wilderness Warrior


"Eisenhower 1956 is the ultimate inside story of Ike's exemplary leadership during the world's first nuclear crisis. Surprisingly, it is also a riveting tale that reads like a suspense thriller, ending with a narrow escape from disastrous consequences."
--Daun van Ee, editor, The Papers of Dwight David Eisenhower


"Eisenhower 1956 is a gripping account of Ike's masterful handling of the Suez crisis. Set against the backdrop of the president's two life-threatening illnesses, David A. Nichols' penetrating examination of a potentially disastrous incident in the tinderbox of the Middle East reveals how Eisenhower's decisive actions averted a deadly war and deterred the Soviet Union from intervening during some of the darkest days of the Cold War."
—Carlo D'Este, author of Eisenhower: A Soldier's Life and Patton: A Genius For War
or
Not Currently Available for Direct Purchase