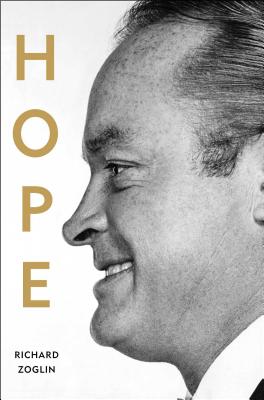 Hope
Entertainer of the Century
Hardcover

* Individual store prices may vary.
Other Editions of This Title:
Paperback (11/24/2015)
Compact Disc (11/24/2015)
MP3 CD (11/24/2015)
Compact Disc (11/4/2014)
MP3 CD (11/4/2014)
Compact Disc (11/4/2014)
Description
"Revelatory…fascinating" (The New York Times): The first definitive biography of Bob Hope, featuring exclusive and extensive reporting that makes the persuasive case that he was the most important entertainer of the twentieth century.

With his topical jokes and his all-American, brash-but-cowardly screen character, Bob Hope was the only entertainer to achieve top-rated success in every major mass-entertainment medium of the century, from vaudeville in the 1920s all the way to television in the 1950s, 1960s, and 1970s. He virtually invented modern stand-up comedy. Above all, he helped redefine the very notion of what it means to be a star: a savvy businessman, an enterprising builder of his own brand, and a public-spirited entertainer whose Christmas military tours and unflagging work for charity set the standard for public service in Hollywood.

As Richard Zoglin shows in this "entertaining and important book" (The Wall Street Journal), there is still much to be learned about this most public of figures, from his secret first marriage and his stint in reform school, to his indiscriminate womanizing and his ambivalent relationships with Bing Crosby and Johnny Carson. Hope could be cold, self-centered, tight with a buck, and perhaps the least introspective man in Hollywood. But he was also a tireless worker, devoted to his fans, and generous with friends.

"Scrupulously researched, likely definitive, and as entertaining and as important (to an understanding of twentieth- and twenty-first-century pop culture) as its subject once genuinely was" (Vanity Fair), Hope is both a celebration of the entertainer and a complex portrait of a gifted but flawed man. "A wonderful biography," says Woody Allen. "For me, it's a feast."
Praise For Hope: Entertainer of the Century…
"Revelatory…unabashedly ambitious…fascinating."
— New York Times

"Terrific—scrupulously researched, likely definitive, and as entertaining and as important (to an understanding of 20th- and 21st-century pop culture) as its subject once genuinely was."
— Vanity Fair

"A Bob Hope bio even millennials can love…As Zoglin vividly demonstrates here, Hope, who died in 2003, was a groundbreaker—a song-and-dance man who was also one of the inventors of stand-up comedy. Hope took great humanity, spectacular delivery and ordinary material and somehow transformed himself into one of the best-loved cultural icons of the age. Whether or not you've heard of him, this insightful bio is worth a read."
— People

"A wonderful biography by Richard Zoglin. For me it's a feast."
— Woody Allen

"Richard Zoglin's biography Hope does such an effective job of arguing the appeal that even the Hope-hater comes away eager to see more of his good early work, and more sympathetic to the forces in his life and in the country's which left him hard to like at the end."
— Adam Gopnik

"Bob Hope was an entertainment colossus, shrewd and influential well beyond show business. Richard Zoglin's biography captures it all—the public and private Hope."
— Tom Brokaw

"Richard Zoglin's fascinating biography is as close as we're ever going to get to one of the most opaque human beings ever to become justifiably world-famous. Bob Hope lived so long that it's easy to forget how original he was, not to mention brilliantly funny and attractive. It's all here: the women, the politics, the amazing career, the selfless devotion to American soldiers, the unexpected empathy, and, thank God, the laughter."
— Scott Eyman, author of John Wayne

"Bob Hope may indeed have been the most popular comedian of the 20th century, yet he probably is unknown to most Millennials, which is why Richard Zoglin's invaluable biography is so vital."
— USA Today

"This beautifully written volume is, at last, the book about Bob Hope. Zoglin covers everything: the early life, the sky-rocketing triumphs in every medium, the life-risking—and ego-feeding—patriotism that spanned the globe, bringing laughter (and gorgeous ladies) to our troops in wartime, the wealth, the women, the quirks, the warts, the temper, the cheapness, the touching generosity, the fabulous talent and the genius-managed career."
— Dick Cavett

"An entertaining and important book."
— The Wall Street Journal

"Important…Zoglin has put together a fair-minded book about Hope as an entertainer and as a person, and tells a far more compelling story than can be found in some tossed-off snark. Don't just ask your grandparents. Read Zoglin."
— Akron Beacon-Journal

"A thorough, evenhanded and absorbing portrait."
— Associated Press

"Bob Hope lived to be 100. And even in death he has retained a kind of ubiquity. Let Richard Zoglin draw it for you in the introduction to what is one of the necessary American books – the definitive biography of one of the holy monsters of American show business."
— Buffalo News

"[Zoglin] does a superb job in fetching all the mostly-forgotten versions of Hope and soberly parading them past us without too much hyperbole…. a good guide to the century of Bob Hope."
— Boston Globe

"A definitive biography of this legendary performer has long been overdue, an undertaking Time magazine theater critic Zoglin completes here with great attention to detail and commendable skill. . . . Not just for Hope fans, Zoglin's work will also appeal to readers interested in the colorful history of American entertainment, in which Hope played a prominent role."
— Carl Hays

"The definitive biography of the legendary comedian…In this rich and entertaining work, Zoglin pulls no punches but also remains an astonished admirer."
— Kirkus (starred review)

"A crackerjack biography."
— Goldderby.com
Simon & Schuster, 9781439140277, 576pp.
Publication Date: November 4, 2014
About the Author
Richard Zoglin is a contributor to Time magazine and the author of Hope: Entertainer of the Century, Comedy at the Edge: How Stand-up in the 1970s Changed America, and Elvis in Vegas: How the King Reinvented the Las Vegas Show. A native of Kansas City, Zoglin currently lives in New York City.
Coverage from NPR
or
Not Currently Available for Direct Purchase