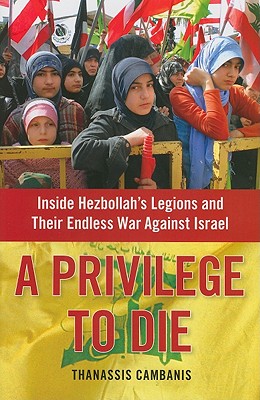 A Privilege to Die (Hardcover)
Inside Hezbollah's Legions and Their Endless War Against Israel
Free Press, 9781439143605, 336pp.
Publication Date: September 28, 2010
Other Editions of This Title:
Paperback (7/5/2011)
* Individual store prices may vary.
Description
While Hamas and Al Qaeda are certainly dangerous to Israel and the West, Hezbollah and its millions of foot soldiers are the premier force in the Middle East.

Veteran Middle East correspondent Thanassis Cambanis offers the first detailed look at the surprising cross section of people willing to die for Hezbollah and its uncompromising agenda to remake the map of the region and destroy Israel.

Part standing army, part political party, and part theological movement, Hezbollah is made up not just of unemployed young men but also middle-class engineers, merchants, even nurses. Hezbollah's widespread popularity rests on its ability to offer its followers economic reform, affordable health care, dependable electricity, efficient courts, and safe streets, as well as victory over Israel. Also unique to the party is its powerful doctrine of self-improvement, which challenges its members to fight ignorance, make money, and engage in safe sex. Millions of demoralized Middle Easterners have gravitated toward these principles, swelling the ranks of what is at heart a radical, militant group. They span economic class, include both fanatics and casual believers, and are sworn to the apocalyptic beliefs of the "Party of God." With its promise of perpetual war, Hezbollah has ushered in a militant renaissance and inspired fighters in Gaza, the West Bank, Egypt, Iraq, and beyond. Whatever their differences, their hatred of Israel and the United States binds them together.

To understand Hezbollah is to understand the fighters and engineers, the women who raise the martyrs, the scouts who plant trees, and the nine-year-old girls who take the veil over the objections of their less militant fathers. Cambanis follows a few Hezbollah families through the ups and downs of the 2006 war with Israel and the continuing preparations for another conflict, letting us listen in to Hezbollah members' intimate discussions at the kitchen table and on the battlefield. Cambanis's reporting puts a human face on the Party of God, so we might understand the ideological and religious roots of today's conflict. His riveting narrative provides an urgent and important exploration of militancy in the Middle East.
About the Author
Thanassis Cambanis is a journalist who has been writing about the Middle East for more than a decade. His first book, A Privilege to Die: Inside Hezbollah's Legions and Their Endless War Against Israel, was published in 2010. He writes "The Internationalist" column for The Boston Globe and is a correspondent for The Atlantic. Thanassis regularly contributes to The New York Times, The Boston Globe, and other publications. He is a fellow at The Century Foundation in New York City. Thanassis lives in Beirut, Lebanon, with his wife, Anne Barnard, a reporter for The New York Times, and their two children.
Praise For A Privilege to Die: Inside Hezbollah's Legions and Their Endless War Against Israel…
"A valuable account. Cambanis is one of those rare foreign correspondents more interested in the impact of the carnage on human beings than in military maneuvers or bang-bang." —The New York Times Book Review

"Brilliant and revealing. It positively frightened me. Interviews in which you can touch the people, coupled with a scholar's command of Islam's history, allow Cambanis to explain what Islamic moderates and the rest of the world are up against. A serious story with emotional power."
—Leslie H. Gelb, President Emeritus of the Council on Foreign Relations

"A revelation. Cambanis, one of the most talented foreign correspondents of his generation, has traveled far into the heart of Hezbollah, and what he has found there needs to be read about and studied by general readers and policy-makers alike. His reporting is not only fearless but sophisticated and penetrating, providing us with a vibrant image and unprecedented understanding of this powerful and secretive Islamist force."
—Matthew McAllester, Pulitzer Prize-winning author of Bittersweet: Lessons from my Mother's Kitchen and Blinded by the Sunlight: Surviving Abu Ghraib and Saddam's Iraq

"No global flashpoint today is more important than the Hezbollah-Israel conflict, and no book I know does a better job than A Privilege to Die in getting inside the thought-world of Hezbollah's followers. Nuanced, textured, and brutally honest, the book should be required reading for anyone who cares about war and peace in the Middle East."
—Noah Feldman, author of Scorpions: The Battles and Triumphs of FDR's Great Supreme Court Justices and The Fall and Rise of the Islamic State

"A gripping, street-level view of Hezbollah. Cambanis brings Hezbollah out of the shadows to show how it has become the world's most sophisticated resistance group."
—Richard Engel, chief foreign correspondent, NBC News, author of War Journal

"Illuminating and terrifying. Thanassis Cambanis journeyed to the heartland of the most important, least understood armed actor in the Middle East. The souls he met along the way are rendered with compassion but not spared the same unflinching lens that Cambanis turns on his own biases."
—Quil Lawrence, National Public Radio, Kabul bureau chief, author of Invisible Nation: How the Kurds' Quest for Statehood Is Shaping Iraq and the Middle East

"Cambanis combines extraordinary reportage with sharp analysis and a clear voice to explore the many sides of Hezbollah. A series of highly evocative portraits of the people who make up the core supporters of Hezbollah makes A Privilege to Die a must read for anyone who seeks a better understanding of the region and its people."
—Farnaz Fassihi, The Wall Street Journal, Author of Waiting for an Ordinary Day

"Thanassis Cambanis, himself shrewd, brave, and determined, has produced ``A Privilege to Die,'' which shows us a Hezbollah with a human face that is nonetheless a grave threat both to Israel and Western interests in the Middle East."--The Boston Globe
or
Not Currently Available for Direct Purchase