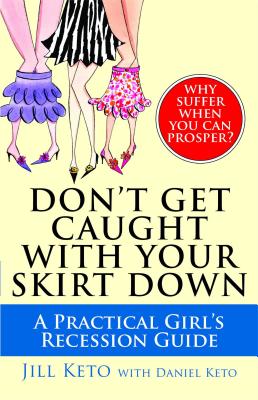 Don't Get Caught with Your Skirt Down (Paperback)
A Practical Girl's Recession Guide
Atria Books, 9781439145869, 242pp.
Publication Date: December 30, 2008
* Individual store prices may vary.
Description
A straightforward, no-nonsense, practical, woman-to-woman guide to understanding the economy and personal finance, navigating the sea of confusing investment options and cutting back on spending during this difficult, belt-tightening recession.
We're in the midst of some of the toughest times we've ever seen. But it's not time to panic--with some solid guidance and financial savvy, you can weather this recession and come out on top. Jill Keto--a selfmade entrepreneur and mother of two--gives you the real scoop on personal finance, the markets, and how to spend and save wisely the way only a girlfriend can, in a down-toearth and straightforward manner we haven't heard from any of the experts. You'll learn: - Where the economy is headed and what that means for you - How to create backup income - Essential skills to help you thrive - How to deal with your big fat mortgage - How to keep your job - How to get what you need, cheaply - Where to save your money so it doesn't vaporize - How to haggle like a pro - How to cut your food bill in half - How to have no car payment - How to look gorgeous without spending a fortune - And much more.
About the Author
An entrepreneur since the age of nineteen and lifelong crusader of a "Practical Chic" lifestyle, artist, and jewelry designer Jill Keto is a stiletto-wearing, do-it-yourself zealot (from car repairs to pedicures), degreed mechanical engineer, organic mini-farmer, and jazz musician. Her husband, Dan Keto, is a graduate of the Harvard Business School and the United States Naval Academy. Together, they live in Seattle with their two young children.
or
Not Currently Available for Direct Purchase