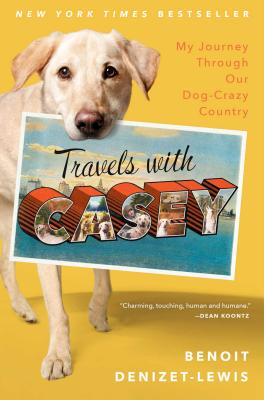 Travels With Casey (Hardcover)
Simon & Schuster, 9781439146934, 352pp.
Publication Date: July 22, 2014
Other Editions of This Title:
Paperback (7/21/2015)
Hardcover, Large Print (8/20/2014)
* Individual store prices may vary.
Description
A moody Labrador and his insecure human take a funny, touching cross-country RV trip into the heart of America's relationship with dogs.

"I don't think my dog likes me very much," New York Times Magazine writer Benoit Denizet-Lewis confesses at the beginning of his journey with his nine-year-old Labrador-mix, Casey. Over the next four months, thirty-two states, and 13,000 miles in a rented motor home, Denizet-Lewis and his canine companion attempt to pay tribute to the most powerful interspecies bond there is, in the country with the highest rate of dog ownership in the world.

On the way, Denizet-Lewis—known for his deeply reported dispatches from far corners of American life—meets an irresistible cast of dogs and dog-obsessed humans. Denizet-Lewis and Casey hang out with wolf-dogs in Appalachia, search with a dedicated rescuer of stray dogs in Missouri, spend a full day at a kooky dog park in Manhattan, get pulled over by a K9 cop in Missouri, and visit "Dog Whisperer" Cesar Millan in California. And then there are the pet psychics, dog-wielding hitchhikers, and two nosy women who took their neighbor to court for allegedly failing to pick up her dog's poop.

Travels With Casey is a delightfully idiosyncratic blend of memoir and travelogue coupled with an exploration of a dog-loving America. What does our relationship to our dogs tell us about ourselves and our values? Denizet-Lewis explores those questions—and his own canine-related curiosities and insecurities—during his unforgettable road trip through our dog-loving nation.
About the Author
Benoit Denizet-Lewis is a writer with The New York Times Magazine and an assistant professor of writing and publishing at Emerson College. He is the author of Travels With Casey, America Anonymous: Eight Addicts in Search of a Life, and has contributed to Sports Illustrated, The New Republic, Details, Slate, Salon, Out, and many others. Denizet-Lewis lives in Jamaica Plain, Massachusetts. Follow him @BenoitDLewis.
Praise For Travels With Casey…
"As an entertaining, somewhat whimsical glimpse into life with dogs in the 21st century, [Travels with Casey] covers a tremendous amount of ground, literally and figuratively. . . . Denizet-Lewis is warm, often hilarious company."
— Bronwen Dickey

"Travels with Casey is a charming, touching, human and humane book. The author's self-deprecating humor, his keen eye for the truth of the people he encounters, his respect for those who live in what too many others might call 'fly-over country,' and his affection for dogs make this a unique book."
— Dean Koontz, author of The City: A Novel and A Big Little Life: A Memoir of a Joyful Dog

"Book of the Week: The abundance of fun facts makes [Denizet-Lewis's] journey well worth sharing."

"USA Today Hot Summer Author."

"Book pick of 'The Culture.'"

"Denizet-Lewis is a master at effortlessly weaving bits of research into his narrative. . . . An intentionally intellectual, geographically expansive analysis of dog culture."
— Ken Foster

"I couldn't stop reading Travels with Casey until I had to walk the dog. It's an adventure story, a love story, and a brilliant commentary on dog literature from J.R. Ackerley to Cesar Millan. Everyone who has a dog will love this book."
— Susan Cheever, author of E.E. Cummings: A Life

"Dog people will fall in love with Travels with Casey. . . . Even if you are indifferent to dogs, you will be charmed by this book."
— Amanda St. Amand

"Benoit Denizet-Lewis' Travels with Casey is a lot like Casey, the 9-year-old dog of the title—fun, sweet and a little neurotic."
— Trine Tsouderos

"Warmth, wit, and self-deprecating humor elevate this journey to much more than a travel memoir. Essential reading for dog lovers and armchair travelers."

"A thoroughly engaging and often hilarious investigation of the therapeutic nature of our relationships with dogs."

"Benoit Denizet-Lewis has written about some pretty strange and fascinating people in his career, but no group is more entertaining than Dog People. Benoit captures this group with warmth and wit in Travels With Casey. Sit! Read! Enjoy!"
— A.J. Jacobs, New York Times bestselling author of The Year of Living Biblically

"Dog lovers will be entranced by Benoit Denizet-Lewis' Travels with Casey, but so will everyone, because it's a book about all of us and a book about America. His observations are funny and poignant and the writing is exquisite."
— David Sheff, author of Beautiful Boy and Clean

"Travels With Casey is a fascinating, clear-eyed, must-read dog book. Benoit takes us on a journey into that very sentimental, very American dog-human relationship, and the result is a dog book like no other."
— Alexander Chee, author of The Queen of the Night

"Casey takes his place alongside Charley and Tulip and Skip as Denizet-Lewis takes his alongside John Steinbeck and J.R. Ackerley and Willie Morris. Travels with Casey is a book for dog lovers that reaffirms why we love them so. And it is a book for misanthropes that will restore their faith in humanity."
— Kevin Sessums, author of Mississippi Sissy

"This sprightly, entertaining travelogue should find a delighted readership."

"Engaging. . .. Comparisons to John Steinbeck's Travels with Charley are obvious, but this is an entirely different and equally rewarding piece of work that expands with each page without losing its narrative thread or the reader's interest."

"A great read."

"Here's a book you'll want to dog-ear. . . . Recommended reading."

"A sparklingly entertaining portrait of the dog-besotted United States. . . . Casey is a good dog, and [Denizet-Lewis] is a good writer, and as Steinbeck knew, that's always a bankable combination."
— Steve Donoghue

"Unlike other dog books that focus simply on training or on an author's personal experience, Travels with Casey gives us a little bit of everything—it's an adventure tale, a psychological study, a history lesson, a trend piece, and a hard-hitting news story all in one. It's funny, fast-paced, life-affirming, moving, and satisfying—in other words, everything a great road trip is supposed to be."
— Gena Hymowech

"This engaging and illuminating book chronicles New York Times writer Benoit Denizet-Lewis four-month journey through the United States with his beloved Labrador, Casey, in tow. . . . A thoroughly engrossing look at our enduring love affair with man's best friend."
or
Not Currently Available for Direct Purchase