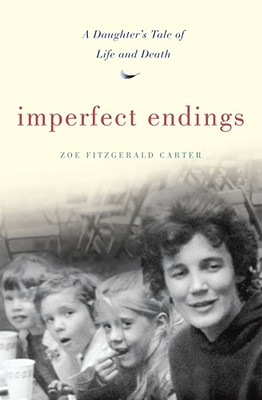 Imperfect Endings (Hardcover)
A Daughter's Tale of Life and Death
Simon & Schuster, 9781439148242, 272pp.
Publication Date: March 2, 2010
* Individual store prices may vary.
Description
• Wrenching, provocative, and surprisingly funny: After twenty years of living with terminal illness, Zoe's mother decided to end her life—and asked her three daughters for their assistance. For months, the decision drags on as her mother changes her methods and schedule, and the negotiations stir up old memories, sibling rivalries, and questions about family loyalty. Eventually there is compromise and courage and Zoe's mother has her happy — if imperfect — ending..

• A controversial subject—assisted suicide: Zoe and her sisters struggle to accept the imminent death of their mother, circling around the same questions: Who will help her? Will they go to jail? Can they bear to let her die alone? With a doctor prescribing lethal doses of sleep medication, a visit from a member of the Hemlock Society's "Final Exit Network," and the temptations of overdosing on morphine, the issues and people in Imperfect Endings are at the center of the debate on assisted suicide. .

• An award-winning new voice: An acclaimed journalist, Zoe won first place in the 2008 Pacific Northwest Writers' Association literary contest and was a finalist at the San Francisco Writer's Conference for Imperfect Endings . .
About the Author
Zoe FitzGerald Carter is a graduate of Columbia Journalism School and has written for numerous publications including New York magazine, The New York Observer, Premiere, and various national magazines. Imperfect Endings is her first memoir. It won first place in the 2008 Pacific Northwest Writer's Association's literary contest and was a finalist at The San Francisco Writer's Conference. Zoe lives in Northern California with her husband and two daughters.
Praise For Imperfect Endings: A Daughter's Tale of Life and Death…
"Carter coaxes beauty from the bleak in this book about the months after Margaret, who has Parkinson's, tells her three girls she plans to 'end things' and wants them to be there when she does. Ultimately, in losing her, Carter finds a mother she never thought she'd know." —People

"Carter's memoir about her terminally ill mother's decision to end her own life becomes a bittersweet tale of how Carter and her sisters coped with their mother's botched efforts, their own sibling rivalries, the ongoing controversy over assisted suicide, and the hard, final task of acceptance."—Elle

"An engaging and insightful tale of familial love, understanding, and forgiveness, shot through with a surprising amount of wit."—The Boston Globe

"I could quote from the book all day. . . but instead I'll just recommend that those intrigued by the subject spend a little time with the ailing but ferocious Margaret and her daughters. A decision to die can sound romantic or it can sound repugnant. Carter shows us what it was like in reality."—Paula Span, The New York Times.com

"The questions that rise from her story are urgent, important and timely…sharply focused, engaged with essential ethical questions…the end of the book is so full of grace and acceptance that one might forget the memoir began with such urgent, roaring questions."—San Francisco Chronicle

"Zoe Carter is a luminous writer with a dramatic story to tell. With wisdom, poetry and dark humor, Zoe describes her ailing mother's courageous decision to end her life. In years to come, plenty of sons and daughters will face the same moral and practical dilemmas as Zoe's family; Imperfect Endings, with its wit and love, will provide an invaluable resource, as well as remain a fascinating, fabulously compelling read." —Jennifer Finney Boylan, author of She's Not There and I'm Looking Through You

"In her wise and moving memoir, journalist Zoe Carter tackles a difficult subject -- her mother's decision to end her own life after years of severe illness. Under what circumstances can her family make peace with this choice? Many of us will find ourselves facing this kind of dilemma as our parents move towards death, and I cannot imagine a better guide than this thoughtful, compassionate book." —Julie Metz, author of Perfection: A Memoir of Betrayal and Renewal

"I love this book! Zoe Carter has taken what could be a very sad story and turned it into something beautiful and incredibly insightful. Her portrayal of her mother is wonderful, and reveals in moving and illuminating detail a slice of Washington life." —Kate Lehrer, author of Confessions of a Bigamist: A Novel

"First-time memoirist Carter comes close to perfection in this chronicle of her mother's quest to orchestrate her own assisted suicide. . . .With surprising humor and sensitivity, Carter presents the struggle to come to terms with mortality and family dynamics."—Library Journal (starred review)

"A poignant memoir."—Kirkus Reviews

"Carter tackles a depressing subject with dark humor and heart."—Booklist

"Imperfect Endings raises difficult questions about love and loyalty, but it is written with such style and sympathy that it is difficult to put down."—San Francisco Chronicle.com

"A beautifully written story of pain and loss, spiked with subtle humor and gentle wisdom."—Judy Bachrach, thecheckoutline.org

"Articulate and exceptionally written, focusing on humor and emotional honesty. . . . It's quite a wonderful experience to read about Margaret's life and, in the end, [Imperfect Endings] becomes a tribute to a lovely woman who made a brave choice. . . . If you read this, you will never forget it."—Bookreporter.com

"Death, by definition, is final. . . . [T]he process of dying is where the real pain, physical and emotional, lies. Carter expertly examines this turmoil and all its accompanying angst, frustration, resentment and introspection. . . . The depth and breadth of the analysis sets this book apart."—CultureMob.com
or
Not Currently Available for Direct Purchase