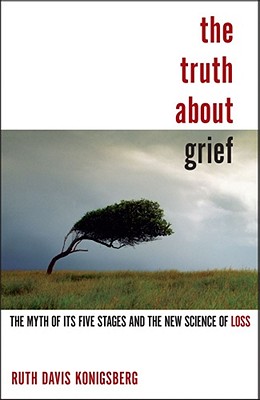 The Truth About Grief
The Myth of Its Five Stages and the New Science of Loss
Hardcover

* Individual store prices may vary.
Other Editions of This Title:
Paperback (9/6/2011)
Description
The five stages of grief are so deeply imbedded in our culture that no American can escape them. Every time we experience loss—a personal or national one—we hear them recited: denial, anger, bargaining, depression, and acceptance. The stages are invoked to explain everything from how we will recover from the death of a loved one to a sudden environmental catastrophe or to the trading away of a basketball star. But the stunning fact is that there is no validity to the stages that were proposed by psychiatrist Elisabeth Kübler-Ross more than forty years ago.

In The Truth About Grief, Ruth Davis Konigsberg shows how the five stages were based on no science but nonetheless became national myth. She explains that current research paints a completely different picture of how we actually grieve. It turns out people are pretty well programmed to get over loss. Grieving should not be a strictly regimented process, she argues; nor is the best remedy for pain always to examine it or express it at great length. The strength of Konigsberg's message is its liberating force: there is no manual to grieving; you can do it freestyle.

In the course of clarifying our picture of grief, Konigsberg tells its history, revealing how social and cultural forces have shaped our approach to loss from the Gettysburg Address through 9/11. She examines how the American version of grief has spread to the rest of the world and contrasts it with the interpretations of other cultures—like the Chinese, who focus more on their bond with the deceased than on the emotional impact of bereavement. Konigsberg also offers a close look at Kübler-Ross herself: who she borrowed from to come up with her theory, and how she went from being a pioneering psychiatrist to a New Age healer who sought the guidance of two spirits named Salem and Pedro and declared that death did not exist.

Deeply researched and provocative, The Truth About Grief draws on history, culture, and science to upend our country's most entrenched beliefs about its most common experience.
Praise For The Truth About Grief: The Myth of Its Five Stages and the New Science of Loss…
"This hopeful book upends old ideas and emphasizes resilience."
—People

"A liberating message: there's no 'right' way to respond to a loss."
—NewYorker.com

"The Truth About Grief challenges the received wisdom about how and why we grieve and, through healthy skepticism and admirable research, brings us to a more hopeful place."
—Judith Warner, author of We've Got Issues and Perfect Madness

"Konigsberg's challenge to the orthodoxy surrounding death is both profound and urgent. This is one of those books that will change you forever, altering—for the better—your perspective on one of life's most essential, inevitable tasks: grieving the loss of a loved one."
—Peggy Orenstein, author of Cinderella Ate My Daughter and Schoolgirls

"A pithy review of our grief culture, its wobbly underpinnings and the frequently opportunistic industry that preys upon it."
—Kirkus Reviews

"Veteran journalist Konigsberg offers a spot-on critique of Elisabeth Kübler-Ross's seminal theory. . . . [Konigsberg] writes clearly and engagingly, and uncovers a host of interesting facts….this book is well worth reading."
—Publishers Weekly

"Eminently readable and intelligent."
—Claire Lambrecht, Salon
Simon & Schuster, 9781439148334, 272pp.
Publication Date: January 4, 2011
About the Author
RUTH DAVIS KONIGSBERG first heard about Elisabeth Kübler-Ross's five stages in a high school psychology class. After graduating from the University of Pennsylvania, she began a career in magazine journalism and worked as an editor for New York and Glamour. She has written for numerous publications, often about psychology. Konigsberg lives in Pelham, New York, with her husband and their two children.
or
Not Currently Available for Direct Purchase