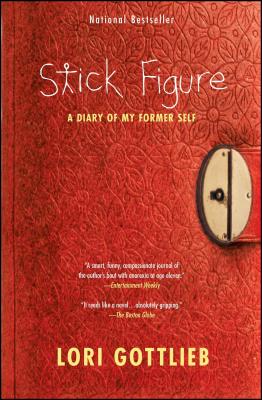 Stick Figure
A Diary of My Former Self
Paperback

* Individual store prices may vary.
Other Editions of This Title:
Paperback (4/1/2001)
Description
Lori Gottlieb—psychotherapist, national advice columnist, and New York Times bestselling author of Maybe You Should Talk To Someone—shares her "gripping" (The Boston Globe) chronicle of adolescent anorexia that "stands out as a fresh, edgy take…on that perilous time in a girl's life when she's no longer a child but not quite an adult (Entertainment Weekly).

For a girl growing up in Beverly Hills in 1978, the motto "You can never be too rich or too thin" is writ large. Precocious Lori learns her lessons well, so when she's told that "real women don't eat dessert" and "no one could ever like a girl who has thunder thighs," she decides to become a paragon of dieting. Soon Lori has become the "stick figure" she's longed to resemble. But then what? Stick Figure takes the reader on a gripping journey, as Lori struggles to reclaim both her body and her spirit.

By turns painful and wry, Lori's efforts to reconcile the conflicting messages society sends women ring as true today as when she first recorded these impressions. "One diet book says that if you drink three full glasses of water one hour before every meal to fill yourself up, you'll lose a pound a day. Another book says that once you start losing weight, everyone will ask, 'How did you do it?' but you shouldn't tell them because it's 'your little secret.' Then right above that part it says, 'New York Times bestseller.' Some secret."

Based on the author's childhood journals, Stick Figure is "a smart, funny, compassionate" (Entertainment Weekly) tale that delivers an engrossing glimpse into the mind of a girl in transition to adulthood and a powerful cautionary tale about the dangers of living up to society's expectations.
Praise For Stick Figure: A Diary of My Former Self…
Peggy Orenstein author of School Girls: Young Women, Self-Esteem, and the Confidence Gap By turns earnest and funny, hopeful and tragic, eleven-year-old Lori is a latter-day Alice: She takes us through the distorted looking glass that's held up to young girls and into the harrowing land of eating disorders. There is no other word for it: You will devour this book -- and, hopefully, keep right on eating.

Sarah Saffian author of Ithaka: A Daughter's Memoir of Being Found Lori Gottlieb's eleven-year-old self is a singular storyteller of unblinking candor and precocious insight. As rife with wry humor as it is lacking in self-pity, this fast-paced chronicle of late-1970s adolescent anorexia is narrated with a light touch, and yet is chilling and poignant in its straightforward simplicity.

Martha Manning author of Undercurrents: A Life Beneath the Surface Lori Gottlieb's approach is compassionate, and very, very funny. More than just a book about anorexia, Stick Figure is an entertaining and thoughtful coming-of-age story that deals with an almost universal theme -- negotiating the minefields of early adolescence and living to tell the tale.
Simon & Schuster, 9781439148907, 224pp.
Publication Date: November 17, 2009
About the Author
Lori Gottlieb is a psychotherapist and New York Times bestselling author who writes The Atlantic's weekly "Dear Therapist" advice column. A contributing editor at The Atlantic, she also writes regularly for The New York Times, and has appeared on the TODAY show, Good Morning America, CBS This Morning, CNN, and NPR. Learn more at LoriGottlieb.com or by following her @LoriGottlieb1 on Twitter.