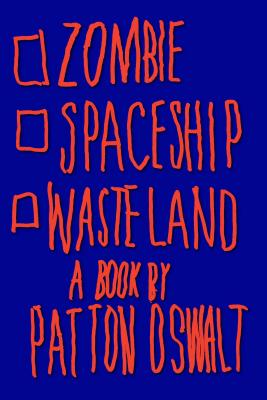 Zombie Spaceship Wasteland: A Book by Patton Oswalt (Hardcover)
A Book by Patton Oswalt
Scribner, 9781439149089, 208pp.
Publication Date: January 4, 2011
* Individual store prices may vary.
or
Not Currently Available for Direct Purchase
Description
Prepare yourself for a journey through the world of Patton Oswalt, one of the most creative, insightful, and hysterical voices on the entertain-ment scene today. Widely known for his roles in the films Big Fan and Ratatouille, as well as the television hit The King of Queens, Patton Oswalt--a staple of Comedy Central--has been amusing audiences for decades. Now, with Zombie Spaceship Wasteland, he offers a fascinating look into his most unusual, and lovable, mindscape. Oswalt combines memoir with uproarious humor, from snow forts to Dungeons & Dragons to gifts from Grandma that had to be explained. He remem-bers his teen summers spent working in a movie Cineplex and his early years doing stand-up. Readers are also treated to several graphic elements, includ-ing a vampire tale for the rest of us and some greeting cards with a special touch. Then there's the book's centerpiece, which posits that before all young creative minds have anything to write about, they will home in on one of three story lines: zom-bies, spaceships, or wastelands. Oswalt chose wastelands, and ever since he has been mining our society's wasteland for perversion and excess, pop culture and fatty foods, indie rock and single-malt scotch. Zombie Spaceship Wasteland is an inventive account of the evolution of Patton Oswalt's wildly insightful worldview, sure to indulge his legion of fans and lure many new admirers to his very entertaining "wasteland.
Praise For Zombie Spaceship Wasteland: A Book by Patton Oswalt…
"Further proof that Patton Oswalt is way funnier than I am, which is either high praise or an insult. Your call."

-Judd Apatow


"Patton Oswalt is a brilliant rarity; a relentlessly creative and original comic who is also a superb writer. If you don't buy this book you are a fool and I will, I swear, fight you."

-Conan O'Brien


"Funny, thoughtful stuff. Patton alternates the spit-take hilarity of a great stand-up with the quiet, mordant insight that clearly helped make him one. Which is amazing, 'cause he's an idiot."

-Joss Whedon


"Fans of Patton Oswalt's standup comedy have always known he was a born writer at heart, and now here's the proof. This is a surprisingly affecting, sincere and daresay vulnerable collection of essays, all keenly observed, always very funny."

-Dave Eggers


"I don't know what's sharper, Oswalt's brains or Oswalt's tongue."
—Sarah Vowell



"I have impeccable taste, and I only converse with the following three: God, the Devil, and Patton Oswalt. All three have opened for me. This book is a funny tragedy. You'll laugh, you'll cry, you'll convert to Pattonism. If you do not love this book, remember, I know where you live in your mother's basement."
—Harlan Ellison



"Perfect—I can describe Patton's book the same way I describe his stand up—brilliant and prolific, I am slackjawed, amazed, and left feeling both inspired and fraudulent."
—Sarah Silverman



"Patton Oswalt is among the funniest on-stage talking humans I am aware of, so it annoys me deeply that he is also an incredibly talented writer. It annoys me, but it does not surprise me. Every sentence in this book is funny (except for the sad ones), but it also brims with Oswalt-ian smarts and surprising poignancy."
—John Hodgman



"[A] very funny book by the Funniest Man Alive."



"Funny and occasionally heartbreaking . . . a cerebral and somewhat surreal tour through the thought processes of Patton Oswalt. It is an inspired and unique work, operating well outside the realm of the disposable comedy memoir."
Advertisement