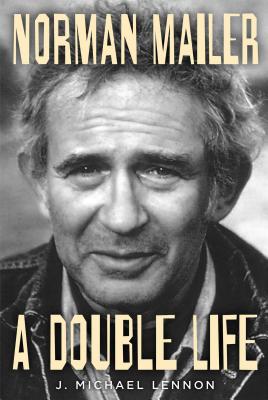 Norman Mailer
A Double Life
Hardcover

* Individual store prices may vary.
Other Editions of This Title:
Paperback (10/23/2014)
Description
From the biographer who knew Norman Mailer for decades comes the definitive, authorized portrait of the eminent novelist, journalist, and controversial public figure, based on extensive interviews and unpublished letters.

Norman Mailer was one of the giants of American letters and one of the most celebrated public figures of his time. He was a novelist, journalist, biographer, and filmmaker; a provocateur and passionate observer of his times; and a husband, father, and serial philanderer.

Perhaps nothing characterized Mailer more than his unbounded ambition. He wanted not merely to be the greatest writer of his generation, but a writer great enough to be compared to Dostoevsky and Tolstoy. As Michael Lennon describes, he even had presidential ambitions, although he settled for running for mayor of New York City. He championed personal freedom and civil liberties, calling himself a "left conservative," and yet he was Enemy #1 of the Women's Movement. He was as pugnacious in real life as in print, engaging in famous feuds and fights. Although he considered himself first and foremost a novelist, his greatest literary contribution may have been in journalism, where he used his novelistic gifts in tandem with self-revelation to explore the American psyche. In that regard, the subtitle of his Pulitzer Prize– and National Book Award–winning Armies of the Night is telling: "History as a Novel, the Novel as History." He would return to certain subjects obsessively: John F. Kennedy, Marilyn Monroe, sex, technology, and the intricate relationship of fame and identity. Michael Lennon's definitive biography captures Mailer in all his sharp complexities and shows us how he self-consciously invented and reinvented himself throughout his lifetime.

Michael Lennon knew Mailer for thirty-five years, and in writing this biography, he has had the cooperation of Mailer's late widow, Norris Church, his ex-wives, and all of his children, as well as his sister, Barbara. He also had access to Mailer's vast, unpublished correspondence and papers, and he interviewed dozens of people who knew Mailer. Norman Mailer: A Double Life gives us the man in full, a remarkable and unique figure in the context of his times.
Praise For Norman Mailer: A Double Life…
"[A] sweeping full-scale biography. . . . A mighty undertaking befitting Mailer's lifetime of protean output. . . . Lennon is a fluid writer, and he's done his homework. There's not a paragraph in this enormous book that doesn't contain a nugget of something you should have known or wish you had known. Lennon has it all, and he has it down. And despite being his subject's literary executor, he has not sanded the corners of a career and life, each of which has plenty of texture and lots of sharp edges. . . . Glorious."
— Graydon Carter

"In the hands of this superb biographer, Norman Mailer comes vividly to life—irresistible, brilliant, formidable, hungry for fame, and endlessly fascinating. Lennon's great achievement lies in matching Mailer's energy and talent with his own. This is surely one of the best biographies ever written of an American writer."
— Doris Kearns Goodwin, author of The Bully Pulpit and Team of Rivals

"Lennon brings Mailer thoroughly alive in this great wallop of a book. His is the reporter's eye, not the judge's, and he captures the entirety of a man who embodied his era like no other."
— David Kirby

"Lennon captures Mailer brilliantly—in all his guises and disguises. At the heart of Mailer's writing was a selfishness to live as many lives as possible, coupled with a deep and elusive empathy. He kept slipping into new times, and geographies, losing himself there. The only things worth doing were the things that might break a heart—and indeed he broke many. Lennon looks at a literary life with great compassion and comprehensive accuracy. A biography for scholars and readers alike."
— Colum McCann, author of TransAtlantic and Let the Great World Spin

"Mailer comes alive on every page, often in his own words, compulsive in his self-overcoming, in his 'Napoleonic' battling with peers and critics to become America's number-one writer, and in his often self-destructive dealings with the world he wanted to analyze (and did) and conquer (not quite). This biography is brisk and electric, a vigorous panorama of the 'singular, unprecedented and irreplaceable' life that Norman Mailer lived."
— William Kennedy, author of Changó's Beads and Two-Tone Shoes and Ironweed

"I knew Mailer for more than a half-century; he was the most prolific and wide-ranging literary intellect of my lifetime. Thanks to Lennon's biography, I am learning a lot that I never knew."
— Gay Talese, author of A Writer's Life and Thy Neighbor's Wife

"[Lennon] adds many details and corrects some canards. He is especially good on the late, lion-in-winter years. . . .Lennon's over-all argument seems right: 'Mailer's desire for fame, and his distaste for it, never abated over his long career.'"
— Louis Menand

"Norman Mailer lived a big, brash, bawdy, belligerent life, and J. Michael Lennon has captured every moment of it."
— Deirdre Bair, author of Saul Steinberg and Samuel Beckett

"A must-read for students and admirers of Mailer's work."

"In this meticulous authorized biography, Lennon offers a comprehensive and unflinching look at the life of the controversial American novelist, journalist, and filmmaker. . . . Lennon's almost clinical perspective shows the author's restless innovation, which was indispensable for understanding the U.S. in the second half of the 20th century."

"[Lennon] marshals an impressive amount of research and deploys it deftly. . . . As for Mailer's exhaustingly various
oeuvre, Mr. Lennon knows it about as well as anyone alive."
— Blake Bailey

"A massive brilliant book that needs attention because knowing of Mailer's life and work may tell us something about ourselves."
— Dan Agin

The raw material that made up Mailer's busy, teeming life might have given lesser biographers fits (or even suggested that a multi-volume approach was in order), but Lennon is able to keep pace – and so are we. . . . This enthralling book captures something of Mailer's insatiable, ever-surprising interest in the world in which he lived."
— Peter Tonguette

"Mailer had invited Lennon to be his biographer, and this richly detailed, revealing and very frank volume is the happy result. . . . Masterful."
— Daniel Dyer

"A swashbuckling literary adventure story."
— Lee Siegel

"An exhaustive, fascinating, and fair-minded account of [Mailer's] life and work. . . . Written with the cooperation of Mailer's family, this thoroughly researched biography promises to be definitive. Essential for anyone with a serious interest in Mailer and his work."

"Huge and satisfying. . . . An extraordinary biography of an extraordinary life."
— Allen Barra

"Lennon has done a very fine job of chronicling most every possible dimension of a sprawling, brawling, daredevil-cum-car wreck of a singularly great American writer's life."
— Randy Boyagoda

"Likely to be the standard biography for this generation."
— Carl Rollyson

"A perceptive biography, one with a keen understanding of [Mailer's] work, his mind and his darkest impulses."
— Kevin Canfield
Simon & Schuster, 9781439150191, 960pp.
Publication Date: October 15, 2013
About the Author
J. Michael Lennon is Emeritus Vice President for Academic Affairs and Emeritus Professor of English at Wilkes University in Pennsylvania. In addition to being chair of the editorial board of The Mailer Review, he has written or edited several books about and with Mailer.
Coverage from NPR
or
Not Currently Available for Direct Purchase