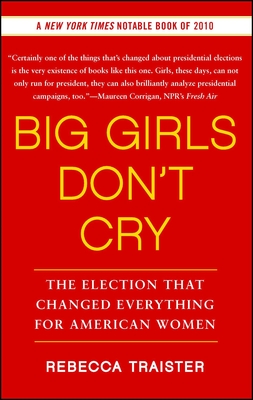 Big Girls Don't Cry
The Election that Changed Everything for American Women
Paperback

* Individual store prices may vary.
Other Editions of This Title:
Digital Audiobook (9/21/2010)
MP3 CD (9/22/2010)
Compact Disc (9/22/2010)
Compact Disc (9/22/2010)
Description
Journalist and Salon writer Rebecca Traister investigates the 2008 presidential election and its impact on American politics, women and cultural feminism. Examining the role of women in the campaign, from Clinton and Palin to Tina Fey and young voters, Traister confronts the tough questions of what it means to be a woman in today's America.

The 2008 campaign for the presidency reopened some of the most fraught American conversations—about gender, race and generational difference, about sexism on the left and feminism on the right—difficult discussions that had been left unfinished but that are crucial to further perfecting our union. Though the election didn't give us our first woman president or vice president, the exhilarating campaign was nonetheless transformative for American women and for the nation. In Big Girls Don't Cry, her electrifying, incisive and highly entertaining first book, Traister tells a terrific story and makes sense of a moment in American history that changed the country's narrative in ways that no one anticipated.

Throughout the book, Traister weaves in her own experience as a thirtysomething feminist sorting through all the events and media coverage—vacillating between Hillary Clinton and Barack Obama and questioning her own view of feminism, the women's movement, race and the different generational perspectives of women working toward political parity. Electrifying, incisive and highly entertaining, Big Girls Don't Cry offers an enduring portrait of dramatic cultural and political shifts brought about by this most historic of American contests.
Praise For Big Girls Don't Cry: The Election that Changed Everything for American Women…
"A passionate, visionary and very personal account."



"Superb.... Big Girls Don't Cry is much more than an assemblage of these type of 'boys on the bus' campaign anecdotes. As anyone who's followed Traister's sharp and lively essays in Salon knows, her particular 'beat' is gender. What she does here is tease out the cultural narratives that came to wield so much power during the [2008 presidential] campaign and, finally, in the voting booth.... There's so much…to be learned and argued over in Big Girls Don't Cry…. Girls, these days, can not only run for president; they can also brilliantly analyze presidential campaigns, too."

-Maureen Corrigan


"I ended up admiring Traister and loving her book. In its best parts, it is a raw and brave memoir of a journalist who discovered that all is not well for women in America, and a description of how she and other young women are laying claim to their rightful place in the fight. . . . Such a youthful embrace of the women's work yet to be done is exhilarating—for her generation and for mine."

-Connie Schultz


"Traister's book masterfully reminds us that we have just lived through a historic moment when a woman, no matter how flawed she was, 'came within spitting distance,' of a nomination for president."



"Rebecca Traister is the most brilliant voice on feminism in this country. I was totally caught up in Big Girls Don't Cry from the first page, and couldn't believe how much Ms. Traister captured and illuminated a story with which I had thought I was so well versed: the 2008 election. She told it as if for the first time."

-Anne Lamott, author of Bird by Bird


"Traister is a clear-eyed, whip-smart observer of the political scene, alert to the resurgence of identity politics as well as the recrudescence of feminism that marked the most recent presidential campaign. She has fashioned a remarkably engrossing page-turner of a cultural narrative, one which features outsize characters and unpredictable plot twists. Big Girls Don't Cry is a report on the 2008 election but more importantly it is a report on the way we think now. If you want to understand where we are going as an electoral entity—why Sarah Palin is the folk heroine du jour and why Michelle Obama has domesticated her free-thinking persona—read this book."

-Daphne Merkin, novelist and critic


"The startling intelligence and graceful prose of Rebecca Traister's coverage of American cultural politics has been one of journalism's best kept secrets during the past decade. With Big Girls Don't Cry, she claims her place as heir to the tradition of Mary McCarthy and Joan Didion as she excavates the tectonic changes that lurked below the surface of most election reporting and illuminates events in a manner that will surprise political junkies and casual observers alike."

-Eric Alterman, author of Why We're Liberals


"In this riveting account of the 2008 election, Rebecca Traister negotiates the shoals of race and gender with exceptional grace and skill and establishes herself as one of the major younger journalists working today."

-Katha Pollitt, poet, essayist, and columnist for The Nation


"Rebecca Traister's lively, insightful narrative discloses an under-reported layer of the 2008 presidential campaign—and in so doing makes the subject fresh and vital again. An important and disquieting book, but also a pleasure to read."

-Robert Draper, author of Dead Certain


"I didn't know what I didn't know about the 2008 election until reading Rebecca Traister's smart, entertaining take on it. Well-researched, well-written, provocative, and insightful, BGDC is a high-spirited salute to feminism in its many forms."

-Curtis Sittenfeld, author of American Wife
Free Press, 9781439150290, 352pp.
Publication Date: June 7, 2011
About the Author
Rebecca Traister is writer at large for New York magazine and a contributing editor at Elle. A National Magazine Award finalist, she has written about women in politics, media, and entertainment from a feminist perspective for The New Republic and Salon and has also contributed to The Nation, The New York Observer, The New York Times, The Washington Post, Vogue, Glamour and Marie Claire. She is the author of All the Single Ladies and the award-winning Big Girls Don't Cry. She lives in New York with her family.