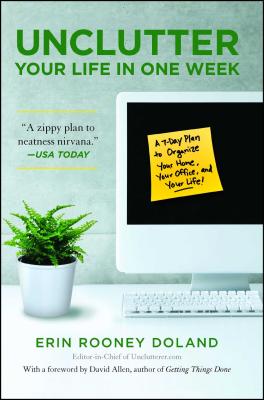 Unclutter Your Life in One Week (Paperback)
Gallery Books, 9781439150474, 256pp.
Publication Date: December 28, 2010
Other Editions of This Title:
Hardcover (11/3/2009)
* Individual store prices may vary.
Description
Organization expert and founder of Unclutterer.com Erin Rooney Doland shows you how to declutter and simplify your surroundings, and create the stress-free life you deserve—in just one week.

Simplicity is revolutionary! Doland's down-to-earth approach and useful, innovative suggestions for tackling the physical, mental, and systemic distractions in your home and office will help you:

-Part with sentimental clutter
-Organize your closet based on how you process information
-Build an effective and personalized filing system
-Avoid the procrastination that often hinders the process
-Maintain your harmonious home and work environments with minimal daily effort
-And much more!

Includes a foreword from David Allen, bestselling author of Getting Things Done
About the Author
Erin Doland is Editor-in-Chief of Unclutterer and lives in the Washington, D.C. area. In addition to her work at Unclutterer, Erin is a twice weekly columnist for Real Simple magazine's website, has written for CNN.com and ReadyMade, and is in negotiations to contribute a regular column to Fast Company. She borders on having a fanatical commitment to a more minimalist and simple lifestyle.

David Allen is an international author, lecturer, and founder and Chairman of the David Allen Company, a management consulting, coaching, and training company. His two books, Getting Things Done and Ready for Anything were both bestsellers. He is a popular keynote speaker on the topics of personal and organizational effectiveness.
Praise For Unclutter Your Life in One Week…
"Simple, practical advice that makes one week truly life changing. A great resource!" -- Peter Walsh



"The infinitely resourceful Doland walks the reader through the uncluttering process with patience, understanding, and more organizing tips than you ever imagined. We all need a friend like Doland to give us a good jump start." -- Kristin van Ogtrop, Managing Editor, Real Simple



"One of the biggest questions people have about organizing is where do I start? Erin's wonderful book provides that answer-telling you exactly where to start, and what to do next, and next, and next. Very practical and accessible!" -- Julie Morgenstern, author of SHED Your Stuff, Change Your Life



"Erin Doland defuses the dreadful prospect of clearing your clutter and breaks the project down into manageable, bite-sized steps. This book will inspire you to get started and see you through to an organized and stress-free home and office." -- Gina Trapani, founding editor of lifehacker.com