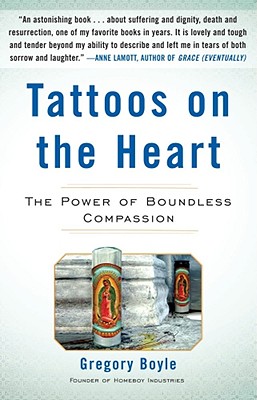 Tattoos on the Heart
The Power of Boundless Compassion
Hardcover

* Individual store prices may vary.
Other Editions of This Title:
Digital Audiobook (3/1/2021)
Paperback (2/22/2011)
Paperback (3/9/2010)
Compact Disc (3/2/2021)
CD-Audio (3/1/2011)
Description
Father Gregory Boyle's sparkling parables about kinship and the sacredness of life are drawn from twenty years working with gangs in LA.

How do you fight despair and learn to meet the world with a loving heart? How do you overcome shame? Stay faithful in spite of failure? No matter where people live or what their circumstances may be, everyone needs boundless, restorative love. Gorgeous and uplifting, Tattoos on the Heart amply demonstrates the impact unconditional love can have on your life.

As a pastor working in a neighborhood with the highest concentration of murderous gang activity in Los Angeles, Gregory Boyle created an organization to provide jobs, job training, and encouragement so that young people could work together and learn the mutual respect that comes from collaboration. Tattoos on the Heart is a breathtaking series of parables distilled from his twenty years in the barrio. Arranged by theme and filled with sparkling humor and glowing generosity, these essays offer a stirring look at how full our lives could be if we could find the joy in loving others and in being loved unconditionally. From giant, tattooed Cesar, shopping at JCPenney fresh out of prison, we learn how to feel worthy of God's love. From ten-year-old Lula we learn the importance of being known and acknowledged. From Pedro we understand the kind of patience necessary to rescue someone from the darkness. In each chapter we benefit from Boyle's wonderful, hard-earned wisdom. Inspired by faith but applicable to anyone trying to be good, these personal, unflinching stories are full of surprising revelations and observations of the community in which Boyle works and of the many lives he has helped save.

Erudite, down-to-earth, and utterly heartening, these essays about universal kinship and redemption are moving examples of the power of unconditional love in difficult times and the importance of fighting despair. With Gregory Boyle's guidance, we can recognize our own wounds in the broken lives and daunting struggles of the men and women in these parables and learn to find joy in all of the people around us. Tattoos on the Heart reminds us that no life is less valuable than another.
Praise For Tattoos on the Heart: The Power of Boundless Compassion…
"Destined to become a classic of both urban reportage and contemporary spirituality."
—The Los Angeles Times


"An astonishing book . . . about suffering and dignity, death and resurrection, one of my favorite books in years. It is lovely and tough and tender beyond my ability to describe and left me in tears of both sorrow and laughter."—ANNE LAMOTT, AUTHOR OF GRACE (EVENTUALLY)

"One of the bravest, most humane, heartbreaking, brilliant, and hopeful stories I've read in ages. Father Greg, the Gandhi of the Gangs, fills Tattoos with unquenchable soul force and down-to-earth love." —JACK KORNFIELD, AUTHOR OF A PATH WITH HEART

"Father Boyle reminds us all that every single child and youth is a part of God's 'jurisdiction'—and when they know that we are seeing them as God does, they are capable of great things. Father Boyle is a national treasure."
—MARIAN WRIGHT EDELMAN, PRESIDENT, CHILDREN'S DEFENSE FUND

"Sometimes we are allowed to see in our own lifetimes what we were supposed to see in the life and ministry of Jesus. Read, and let your life be changed!"
—FATHER RICHARD ROHR, O.F.M., CENTER FOR ACTION AND CONTEMPLATION, ALBUQUERQUE, NEW MEXICO

"Tattoos on the Heart is an astounding book and a remarkable testament. No one brings more triumph and tragedy to the street gang story than Greg Boyle. No one brings more conviction and compassion than Greg Boyle. And no one writes the gang story more beautifully."
—MALCOLM KLEIN, PROFESSOR EMERITUS, UNIVERSITY OF SOUTHERN CALIFORNIA

"A spiritual masterpiece touching the innermost sanctum of the human soul. Boyle approaches each person as a child of God and fully deserving of love and compassion. His capacity to reach the heart of the most hardened, and to see the best in everyone, inspires. I laughed, wept, and underlined on virtually every page."
—KERRY KENNEDY, FOUNDER OF THE RFK CENTER FOR JUSTICE AND HUMAN RIGHTS

"An extraordinary reflection of a life totally committed to reshaping and redirecting the lives of countless young gang members (from L.A.'s gang culture), Greg Boyle's Tattoos on the Heart proves one man with courage is a majority." —MARTIN SHEEN

"Tattoos on the Heart is an honest, raw, and compelling collection from Father Greg Boyle's life and work with gang-involved youth. His commitment should teach us all a lesson in compromise, sharing, learning, loving, and, most important, living life to the fullest." —ANJELICA HUSTON

"Incandescent, always hope-filled and often hilarious. Boyle somehow maintains an exuberant voice that celebrates the strength, compassion and humanity of people often demonized. He simply highlights charity and goodness wherever they are found. Boyle intersperses his narratives about gang members and his work with them with theological and spiritual reflections from a variety of theologians, poets and other writers. By introducing book-buying, highly educated readers to people we may never otherwise encounter, Boyle aspires to "broaden the parameters of our kinship.'"--The Christian Century

"In this artful, disquieting, yet surprisingly jubilant memoir, Jesuit priest Boyle recounts his two decades of working with homies in Los Angeles County, which contains 1,100 gangs with nearly 86,000 members. . . . From moving vignettes about gangsters breaking into tears or finding themselves worthy of love and affirmation, to moments of spiritual reflection and sidesplittingly funny banter between him and the homies, Boyle creates a convincing and even joyful treatise on the sacredness of every life. Considering that he has buried more than 150 young people from gang-related violence, the joyful tenor of the book remains an astounding literary and spiritual feat."
—Publishers Weekly Starred Review




"A set of stories that will stir many emotions. They will leave you dumbfounded at the power of love and compassion to break down high walls built by anger and pain."
—America magazine

"Jaw-dropping. Boyle take[s] us through the human lifecycle of fall/grace/redemption/repeat again and again. Reading this book is a spiritually cleansing experience that won't leave you the same. The compassion Boyle writes of is so deep and wide and strong that nobody is ever beyond its reach. Tattoos on the Heart welcomes all of us to join in the "no matter whatness" of God's unconditional love." Sojourners
Free Press, 9781439153024, 240pp.
Publication Date: March 9, 2010
About the Author
Gregory Boyle is an American Jesuit priest and the founder of Homeboy Industries in Los Angeles, the largest gang-intervention, rehabilitation, and re-entry program in the world. He has received the California Peace Prize and been inducted into the California Hall of Fame. In 2014, the White House named Boyle a Champion of Change. He received the University of Notre Dame's 2017 Laetare Medal, the oldest honor given to American Catholics. He is the acclaimed author of Tattoos on the Heart and Barking to the Choir. The Whole Language is his third book, and he will be donating all net proceeds to Homeboy Industries.
Coverage from NPR