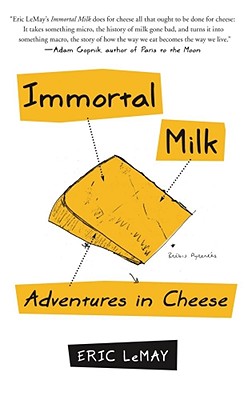 Immortal Milk
Adventures in Cheese
Hardcover

* Individual store prices may vary.
Other Editions of This Title:
Paperback (3/16/2013)
June 2010 Indie Next List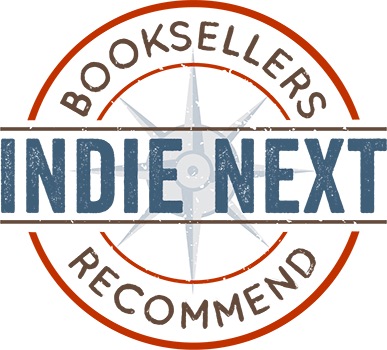 "As a Cheesehead, I must admit to some initial skepticism re: Immortal Milk: Adventures in Cheese. However, Eric Le May's first three words:"
— Kathleen Dixon, Islandtime Books & More, Washington Island, WI
View the List
Description
Is there a food more delightful, ubiquitous, or accessible than cheese? This book is a charming and engaging love letter to the food that Clifton Fadiman once called "milk's leap toward immortality." Examining some cheeses we know as well as some we don't; the processes, places, and people who make them; and the way cheeses taste us as much as we taste them, each chapter takes up a singular and exciting aspect of cheese: Why do we relish cheese? What facts does a cheese lover need to know? How did cheese lead to cheesiness? What's the ideal way to eat cheese—in Paris, Italy, and Wisconsin? Why does cheese comfort us, even when it reeks? Finally, what foods pair well with which cheeses?
Eric LeMay brings us cheese from as near as Formaggio Kitchen in Cambridge, Massachusetts, to as far as the Slow Food International Cheese Festival in Bra, Italy. In the witty, inventive, and wise company of his best girl, Chuck, he endures surly fromagers in Paris and dodges pissing goats in Vermont, a hurricane in Cambridge, and a dispiriting sense of hippie optimism in San Francisco; looks into curd and up at the cosmos; and even dons secondhand polyester to fathom America's 1970s fondue fad. The result is a plucky and pithy tour through everything worth knowing about cheese.
***
AN EXCERPT FROM THIS BOOK APPEARS IN BEST AMERICAN FOOD WRITING 2009
***
It's a challenge to describe the flavor of an excellent French cheese. Chuck and I were in our tiny rental in the Marais, hovering over a Langres. We didn't have the funds for Champagne, but we had managed to get tipsy on a serviceable vin de pays, which is also a pleasant way to eat a Langres.
"It doesn't play well with others," Chuck continued, the thick smack of pÂte slowing her speech. "It doesn't respect lesser cheese."
"It's like a road trip through Arizona in an old Buick," I offered.
"It has a half-life inside your teeth."
"It has ideas."
"It gradually peels off the skin on the roof of your mouth."
"It attains absolute crustiness and absolute creaminess."
Anyone can read that a salt-washed Langres is "salty," then taste its saltiness, but not everyone will taste in it the brilliant and irascible character of Proust's PalamÈde de Guermantes, Baron de Charlus. Yet these more personal descriptions capture the experience of a Langres. It sparks associative leaps, unforeseen flashbacks, inspired flights of poetry and desire. Its riches reveal your own. W. H. Auden once remarked that when you read a book, the book also reads you. The same holds true for cheese: it tastes you.
—From Immortal Milk
Praise For Immortal Milk: Adventures in Cheese…
"Eric LeMay's Immortal Milk does for cheese all that ought to be done for cheese: it takes something micro, the history of milk gone bad, and turns it into something macro, the story of how the way we eat becomes the way we live."
—Adam Gopnik, author of Paris to the Moon



"An elegant and nuanced brand of food writing...For student foodies, or even just the average cheese-lover, "Immortal Milk may hit the ideal blend of education and indulgence." —Columbia Spectator



"Memorable...bouncing between travelog and poetry, history and buying guide...LeMay is an engaging writer...This will appeal to readers with high literary sensibilities looking for an erudite intro to the appreciation of cheese." —Library Journal



"Clearly, [LeMay] is someone who not only celebrates cheese, but also the written word, which is what makes Immortal Milk such a great read. LeMay and his wife, Chuck, are both serious cheese enthusiasts, and we follow them as they seek out illegal raw-milk Vacherin, try to "figure out" the appeal of Wisconsin cheeses and get caught up in a heated discussion with an Italian artisan cheesemaker at the Slow Food International Cheese Festival in Bra, Italy. The latter part of the book, called Chuck's Picks, offers thoughtful advice and descriptions on pairing cheese with beer, chocolate, coffee, fruit preserves, honey, meat, whiskey and wine (and Chuck appears to be as good — and funny — a writer as husband Eric)." — Domenica Marchetti, The Washington Post



"A cheese lover's delight...Recommended? Yes, especially if you're a cheese enthusiast...This is just the kind of book one could happily leap into." —Apartment Therapy



"Love cheese? Crave good writing? Then you'll savor these pages...at turns historical, philosophical and conversational...the most delectable morsels are what can be described only as LeMay's odes to cheeses, which soar beyond the flavors...A book for serious epicures." —The Virginian-Pilot



"On the surface, Eric and Chuck are thrilled by cheese, plain and simple. What's riveting about this book is that they take that enthusiasm to the next level by fully living the fantasy—traveling to the source of the cheese itself, be it Vermont or France or Italy...expertly crafted observations and self deprecating humor...And while he insists that he and Chuck are just cheese 'enthusiasts' its clear that by the end of the book, they have transported themselves by sheer force of will into experts. Follow along and you'll laugh, you'll cry and you'll learn a lot about cheese." —Pacific Northwest Cheese Project



"LeMay has criscrossed the globe...in search of unique and exceptional cheeses, unraveling the classifications of curd, texture, rind and age, and meeting passionate cheesemakers who revel in their craft. LeMay aims to encourage readers to delve into the world of cheese without trepidation, even supplying a helpful gazetteer of cheese sources and a chart for pairing food and cheese fearlessly." —The Washington Post
Free Press, 9781439153048, 256pp.
Publication Date: June 1, 2010
or
Not Currently Available for Direct Purchase