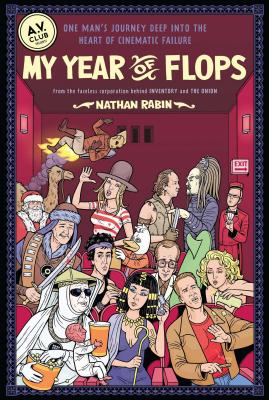 My Year of Flops: The A.V. Club Presents One Man's Journey Deep Into the Heart of Cinematic Failure (Paperback)
The A.V. Club Presents One Man's Journey Deep Into the Heart of Cinematic Failure
Scribner Book Company, 9781439153123, 264pp.
Publication Date: October 19, 2010
Description
In 2007, Nathan Rabin set out to provide a revisionist look at the history of cinematic failure on a weekly basis. What began as a solitary ramble through the nooks and crannies of pop culture evolved into a way of life. My Year Of Flops collects dozens of the best-loved entries from the A.V. Club column along with bonus interviews and fifteen brand-new entries covering everything from notorious flops like The Cable Guy and Last Action Hero to bizarre obscurities like Glory Road, Johnny Cash's poignantly homemade tribute to Jesus. Driven by a unique combination of sympathy and Schadenfreude, My Year Of Flops is an unforgettable tribute to cinematic losers, beautiful and otherwise.
Praise For My Year of Flops: The A.V. Club Presents One Man's Journey Deep Into the Heart of Cinematic Failure…
"Nathan Rabin's My Year of Flops is like watching a genius nurse a score of frightened, wounded baby birds back to life--a superhuman level of care and compassion lavished on That Which Never Had A Right To Exist. Truly brilliant."

—Patton Oswalt, author of Zombie Spaceship Wasteland

"Nathan Rabin is all-knowing (without being smarmy), open-and kind-hearted (without being sappy), and he'll make you laugh on every page. You can't have a better friend sitting next to you as you watch these glorious atrocities."

—Mike Sacks, author of And Here's the Kicker and SEX: Our Bodies, Our Junk

"Jon Krakauer's writing is beyond vivid. You FEEL the cold of Everest as your read his words. Into Thin Air is a harrowing journey, well worth your time. I've also heard great things about Nathan Rabin's My Year of Flops."

—Aziz Ansari

"Nathan Rabin's book is funnier than John Travolta's facial hair in Battlefield Earth. He's a brave man for undertaking this dangerous mission and returning alive with a highly entertaining tale."

--A.J. Jacobs, author of The Year of Living Biblically
Advertisement